Spinach, Artichoke & Jalapeño Pepper Dip Recipe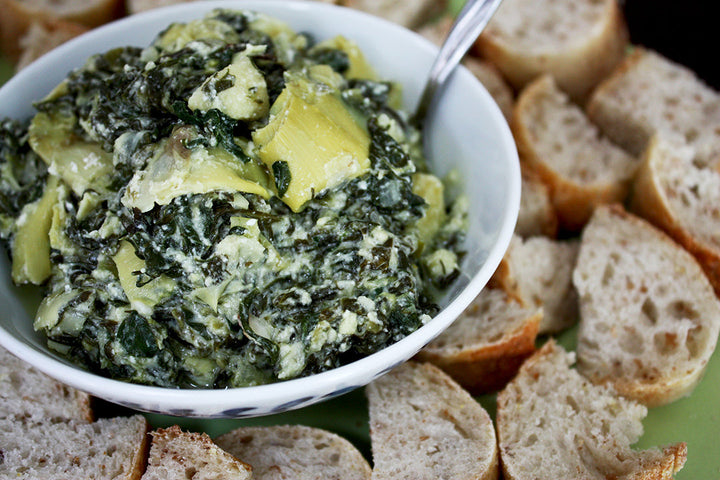 Super Bowl is this Sunday! Large gatherings need fuel to catch all of the action on the field so we're serving up a slew of recipes perfect for entertaining. Our ovens can churn out piping hot apps like this spicy spinach and artichoke dip in minutes. Keep your guests' spirits up with a spread of delicious dips made-to-order.
Prep Time: 15 mins.
Cook Time: 30 mins.
Servings: 24
Difficulty: Low
Supplies:
Stirring utensil for mixing
Large greased cooking tray
Aluminum foil
Ingredients: 
450 g cream cheese (cubed)
½ cup mayonnaise
½ cup grated parmesan
½ cup queso cotija
2 cloves crushed fresh garlic
½ teaspoon garlic powder
Fresh ground pepper and salt (to taste)
2 cans of artichoke hearts (drained and diced)
1 cup frozen chopped spinach (thawed and drained)
3/4 cup shredded mozzarella
¼  cup pickled jalapeno peppers (minced)
Directions: 
1.) Preheat oven to approximately 350°F.  Keep a very low temp by maintaining a small fire if using a wood-fired model.
2.) In a large mixing bowl, combine mayonnaise, parmesan, cotija cheese, cream cheese, ¼ cup shredded mozzarella, garlic, salt and pepper. Mix until evenly distributed.
3.) Slowly and gently add the jalapeño, spinach and artichokes to the mixture.
4.) Once well-combined, pour entire mixture into a greased pan and then top with the rest of the shredded mozzarella.
5.) Cover with piece of foil and place in oven for approx. 15 mins.
6.) Remove foil and allow to cook for another 15 mins., or until the top begins to brown.

7.) Remove and serve immediately (careful, it gets hot!) with either crostini, chips, crackers, or anything you love to dip with.
Buon Appetito!
Subscribe to our YouTube channel for more videos! We're also on Instagram, Facebook, Pintrest, and TikTok!
---

40+ Years of Innovation | 100% Made in Italy
Built to Last | Superior Design & Construction