Braised Short Ribs - Costolette Brasate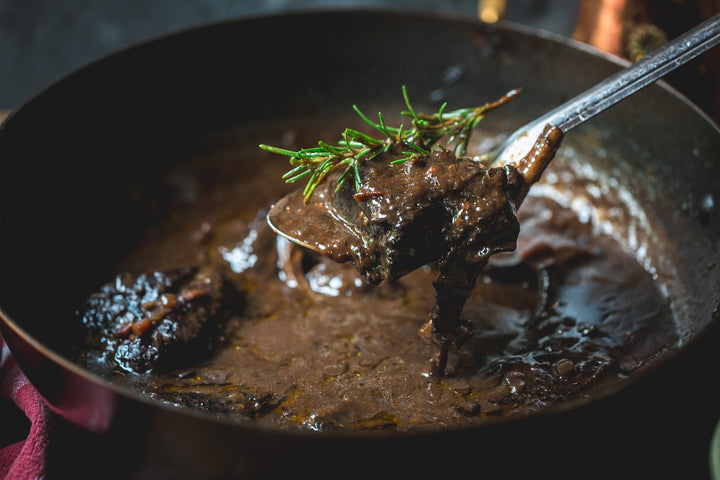 Braised Short Ribs - Costolette Brasate
Recipe:
Braised short ribs are a rich and delicious SECONDO, an entrée that will satisfy any meat lover's palate. Slowly braised in the wood-fired oven this dish will certainly become a favorite, elegant and delicious comfort food. So how do we prepare it?
BRAISING is the choice cooking method for our dish today. But what is braising? Braising meat is a two step method of cooking meat. You begin by placing the meat in a hot pan drizzled with olive oil. This is referred to as DRY HEAT and it is here where the meat is seared and browned on all sides. Next you cook the meat for a long time in what is called a WET HEAT and this is done in a braising liquid.  Today our braising liquid will consist of wine and beef broth. Let's get started. 
Supplies:
Deep frying pan - Debuyer
Upright immersion hand blender
Ingredients:
2.6 lbs - 1.2 Kg Short Ribs - we purchase them when they are on sale
3-4 carrots
1 large onion
3-4 stalks celery
3 cloves garlic
1 bay leaf
2-3 sprigs rosemary
1 liter red wine
500 grams or 1/2 Liter beef broth
50 grams All Purpose flour for the dredging of the meat
1 Tablespoon corn starch
Salt to taste
Hot pepper flakes optional 
Black pepper to taste
Directions
Preheat the

 

Marinara Pizza Oven

 

to 350°-375°F - 176°-190.5°C
Dice the onions, celery, and carrots. In Italian these are called the ODORI which are used to make a delicious SOFFRITTO. The combination of these three vegetables, as well as at times the addition of garlic, is very much the secret base for many Italian dishes. The soffritto is slowly cooked over 20 minutes in some olive oil as you continue stirring occasionally.  In this recipe after the dish was finished we chose to blend the sauce with an upright blender. If not blended be more precise in the mincing of the vegetables. 
Drizzle some olive oil in a pan.  Sauté / stew the diced vegetables for about 20 minutes, until the onions are translucent and almost fall apart.
Mince the rosemary and mix in with the vegetables.  Remove the soffritto from the pan and set aside.  
Evenly dredge all sides of the short ribs with AP flour.  Knock off the excess flour by gently "slapping" each piece.  
In the same pan where we made the soffritto, sear all sides of the short ribs. 
Once all sides are well seared, add the vegetables - soffritto, the bay leaf, salt, pepper, and hot pepper flakes to the meat. 
Pour in the wine and broth, making sure the meat is completely covered. 
Cover the pan with a lid and place in the oven.  Allow it to cook for about 1 hour and 30 minutes checking occasionally to see if more liquid is needed. 
Remove from the oven and carefully take each piece of meat out of the sauce and set on a platter or plate.
With the help of a hand held immersion blender purée the sauce to a creamy consistency.  This cream is ideal when served over mashed potatoes. 
Since the sauce needed some thickness we mixed 1 Tbps of corn starch in a third cup of water.  Add this to the creamed mixture and stir thoroughly, until the sauce has slightly thickened.
Place the meat back in the sauce. It is now ready to serve.  It is absolutely delicious served alongside roasted potatoes or mashed potatoes.  Enjoy! 
Buon Appetito!
Subscribe to our YouTube channel for more videos! 
Follow us on Instagram and tag us with your culinary magic! We would love to see how you make this recipe!
---

40+ Years of Innovation | 100% Made in Italy
Built to Last | Superior Design & Construction