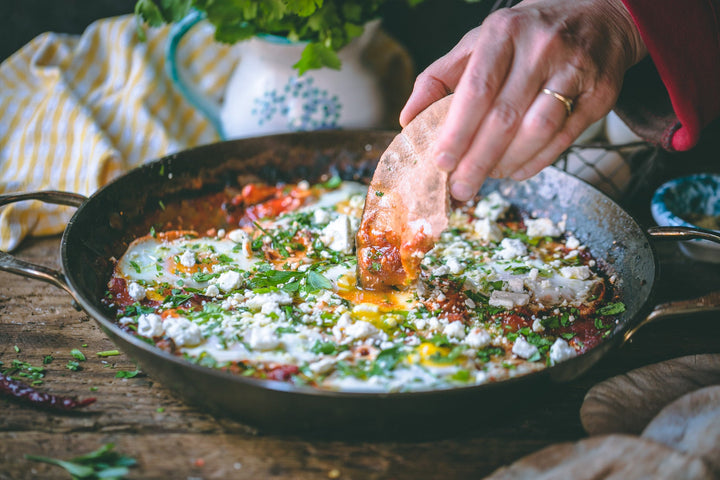 Shakshuka
Recipe:
Shakshuka is a delicious and simple vegetarian dish made all around the Mediterranean world. Although there are some variations to how it is prepared, this rustic dish consists of tomatoes, onions, garlic, peppers and spices in which you nestle and poach fresh eggs. Accompanied by some toasted bread or Pita bread this dish is certain to become a welcomed comfort food for breakfast, lunch or dinner.
Although Shakshuka has its origins in North Africa, many cultures around the Mediterranean have adopted this simple, almost peasant dish to their own cuisine. In Tuscany it is customary to add small nests consisting of fresh blanched spinach on which you rest the egg. Even Naples, in southern Italy has its own, special version of the dish where it is known for its spicy heat. It is here that it is commonly known as Uova in Purgatorio, - Eggs in Purgatory.
Here is our version. 
Supplies:
Ingredients:
6 eggs
1 can (12oz) of San Marzano Roma tomatoes
1 cup cherry tomatoes
1 red bell pepper
1 green bell pepper
1 large sweet onion
3 cloves of garlic
1 tsp cumin
1 tsp paprika
Cayenne hot pepper flakes to taste
Salt to taste
Pinch of sugar to cut down acidity in tomatoes
Small bunch chopped cilantro 
Small bunch chopped parsley
3/4 cup Feta cheese 
Pita bread 
Directions:
Preheat the Fontana 

Marinara Pizza Oven to 375°F - 190°C 
Cut onion and peppers into larger chunks as shown in video.
Thinly slice garlic.
Sprinkle the cumin, paprika and hot pepper flakes over the vegetables and the cherry tomatoes. Toss everything thoroughly.
Preheat the skillet in the oven. Carefully remove from the oven and drizzle with olive oil.  
Add all vegetables to the skillet, stir and carefully place back into the oven.
Sauté the vegetables for 10 minutes. 
At this point add the tomatoes to which a good pinch of sugar is added to cut down the acidity.
Add salt to taste and stir thoroughly.
Place skillet back into the oven for another 5-10 minutes.
Remove from the oven and with the help of a spoon create some indentions in the sauce. It is here where you will place the eggs to poach.
Carefully crack the eggs into the indentions made in the sauce.
Slowly move skillet back into the oven for just a few minutes.
Position slices of bread or pita bread at the mouth of the oven to toast.
Making sure to use your gloves remove the skillet from the oven.
Sprinkle chopped cilantro and parsley over the dish as well as the feta cheese.
To finish it off drizzle good olive oil over the dish and serve immediately. 
Enjoy!
Buon Appetito!
Subscribe to our YouTube channel for more videos! 
Follow us on Instagram and tag us with your culinary magic! We would love to see how you make this recipe!
@FontanaForniusa   #fontanaovens
---

40+ Years of Innovation | 100% Made in Italy
Built to Last | Superior Design & Construction