Schiacciata all'Olio Dough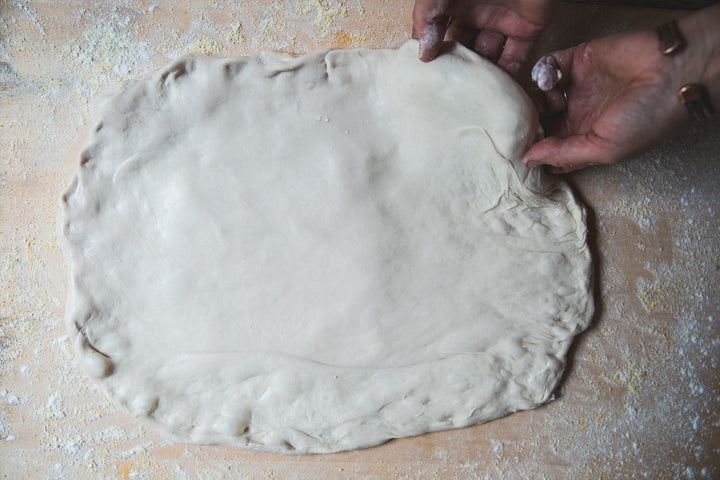 Schiacciata all' Olio Dough
Recipe:
Supplies:
Bench scraper
Bread bowl
Dough hook
Damp cloth 
Ingredients:
800 grams "00" flour
200 grams bread flour
650 grams water
1 tsp instant dry yeast
18 grams salt
1 tbsp olive oil
Directions:
In a large bowl mix together the "00" flour, bread flour and salt.
In a small bowl, add about half a cup of water and mix in the yeast to allow to hydrate. 
After about 5 minutes, pour the water and yeast water over the center of the flour.  
At this time add about a tablespoon of olive oil to the mixture.
Mix everything together with a dough hook.
Once all the flour is incorporated, begin kneading the dough.
Although this dough is not highly hydrated, the slap and fold method (as shown in the vide0) works great for this tacky dough.
Cover the dough with a damp cloth and allow it to rest in between kneading.  This allows the gluten strands to relax.  
After the dough has rested, knead one more time until the surface of the dough is smooth.  
In a bottom of a large bowl, drizzle a little bit of oil, and place the dough inside.  
Again, cover the dough with a damp cloth and allow it to rise for about 45 minutes or until doubled in size.
After it has risen, divide the dough into fourths and shape each piece into  round dough balls. 
Once again, cover the dough to keep the surface of the dough moist.
At this point the balls can be put in the refrigerator to rise overnight, and stretched the next day to bake.  (In order to do this method, take the dough balls out of the refrigerator one hour before baking to allow them to reach room temperature.  Once they have reached room temperature, they can be stretched, seasoned, and placed in the oven). 
If the dough is to be used the same day, make sure the balls are covered and allow them to rise for 50 minutes at room temperature.  Once they have risen, they can be stretched, seasoned and placed in the oven.
To learn how to stretch, season and bake Schiaccate, the directions can be found at
Schiacciata with Delicious Toppings
and
Schiacciata with Leftover Pizza Dough
. 
Buon Appetito!
Subscribe to our YouTube channel for more videos! 
Follow us on Instagram and tag us with your culinary magic! We would love to see how you make this recipe!
---

40+ Years of Innovation | 100% Made in Italy
Built to Last | Superior Design & Construction