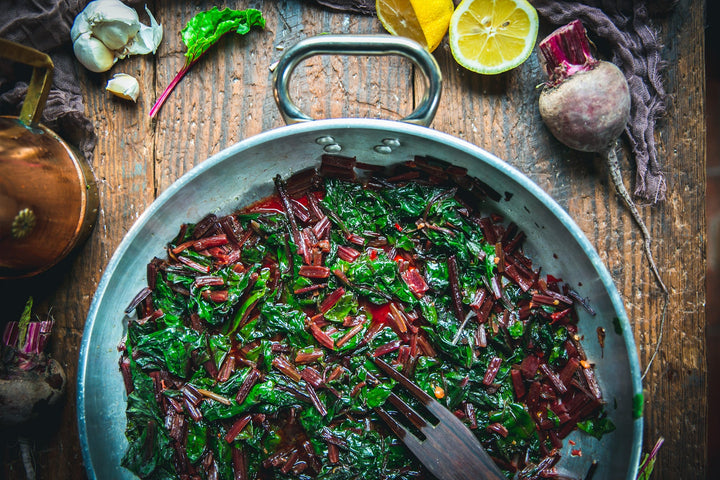 Sautéed Beet Greens
Recipe:
Don't discard those wonderful greens that grow on top of fresh beets!  Beets are known for their incredibly delicious, deep colored roots, but often the tops are forgotten and waisted.  This simple recipe will transform this tender, delicate green, into a delicious side dish perfect for just about any meal.  Let's get started! 
Supplies:
 Ingredients: 
Stems and leaves of 5-6 beets
3-4 cloves of garlic
1-2 cayenne peppers (optional)
Zest of a lemon
Juice of one lemon
Salt to taste
Olive oil 
Check out our recipes with Roasted Beets and Roasted Beet Salad! 
Directions:  
Preheat The Marinara Pizza Oven to 375°- 400°F - 190°- 204°C.  
Thoroughly rinse the stems and the beet greens.  
Remove the stems and cut into 1.5-2" pieces.
Roughly chop the greens and set them aside.
Slice the garlic and cayenne peppers.  
Drizzle olive oil in a preheated pan.  Add the garlic and peppers (or pepper flakes) to the pan, allowing to gently dance.  Avoid browning the garlic.
Add the cut stems, cover with the lid, and allow the greens to sizzle in the oven for a few minutes.  The cooking time for the stems can vary based on size. 
When tender but still slightly crisp, add the greens, lemon zest, salt and the water that is left on the leaves from rinsing.  Cover once again with the lid and place back in the oven, long enough for the greens to wilt.  This should only take about 2-3 minutes.  Make sure not to overcook.
Remove from the oven and give everything a good stir.  
As a finishing touch, add a good drizzle of olive oil and a squirt of fresh lemon juice.  Serve as a side dish or as a topping to toasted bread.  Since the oven was hot, we sliced and toasted some bread, rubbed it with fresh garlic, dusted with salt and drizzled good olive oil on top.  What a delicious morsel of goodness when served with the greens.  Enjoy!! 
Buon Appetito!
Subscribe to our YouTube channel for more videos! 
---

40+ Years of Innovation | 100% Made in Italy
Built to Last | Superior Design & Construction