POMAROLA - Simple Tomato Sauce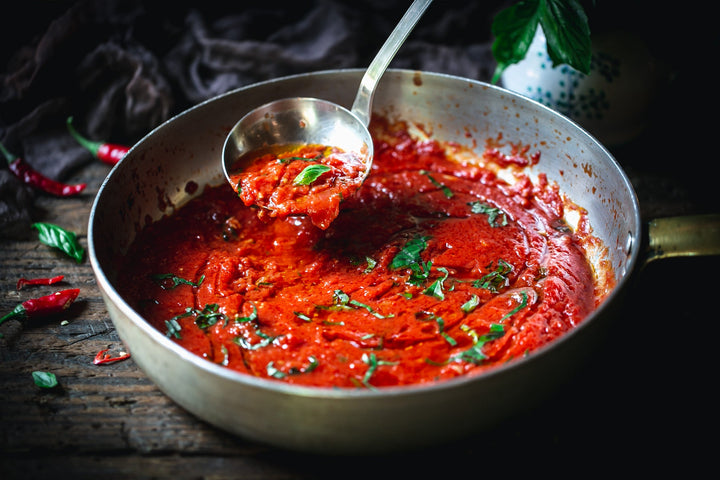 POMAROLA - Simple Tuscan Tomato Sauce
Recipe:
Simple is usually best! There is something to be said to sit down and enjoy an elaborate gourmet meal, but, more often than not, life is too busy for that luxury. Truthfully, we are drawn to comfort food, food that has been simply prepared and reminds us of our childhood, of home, while sitting around mom's kitchen table.  Fresh, plump tomatoes, (canned when out of season), garlic and basil with a good drizzle of good olive oil are just what is needed for the for this simple and loved sauce.
My brothers used to drive home from school on their scooter and honk their horn while hollering: "Mamma, hai buttato la pasta?" Hungrily they wanted to know if mom had already put the spaghetti into the boiling water. The aroma of garlic sizzling accompanied by fresh basil and tomatoes permeated our kitchen and nothing would satisfy them more than a plate of pasta with POMAROLA.
Pomarola is so simple and quick to make that by the time the water comes to a rolling boil for cooking the pasta, the Pomarola is ready. That easy!!!  Perfect for a quick spaghettata with friends or when nothing else comes to mind to prepare.  This simple tomato sauce is so versatile and can be used for many dishes. The possibilities are endless!  Let's get started!
Supplies:
Potato masher or wooden spoon
 Ingredients:
1 large can of peeled Italian Roma tomatoes (definitely use fresh tomatoes when in season)
3 cloves fresh garlic minced or thinly sliced
4-5 fresh basil leaves and some for garnish
Extra virgin olive oil
Salt to taste 
Pinch of sugar - cuts down the acidity of the tomatoes
Cayenne pepper to taste - optional
Directions: 
Preheat the Marinara Wood-fired Pizza Oven to 400°F - 200°C.  Just a gentle fire is needed.  
Place the sauté pan in the oven to preheat.
Thinly slice or mince the garlic cloves as well as the cayenne pepper.  Hot pepper flakes are also an option. 
Stack the cleaned basil leaves on top of the other.  Roll them up like a cigar, and slice them perpendicular to the roll, thus creating fine ribbons.  This slicing technique is called chiffonade.  Whole basil leaves can also be used.  
Carefully remove the pan from the oven and drizzle it with olive oil.
Add the garlic, cayenne pepper and basil directly into the pan with the olive oil.  Allow everything to dance for just a little while, long enough to draw out the aroma from the garlic and basil.  
Make sure not to brown/burn the garlic as it changes in flavor.
Remove the pan from the oven and place the peeled or canned tomatoes into the pan.
Add salt to taste and just a touch of sugar, which will cut the acidity of the tomatoes. 
Give everything a stir and simmer the tomatoes for about 8-10 minutes.  
Once the tomatoes have softened, crush them with the help of a wooden spoon or a potato masher into a thick sauce.  Leave it as chunky as desired. 
Finish the sauce off with additional fresh ribbons of basil and a drizzle of olive oil.  The Pomarola is ready to serve and the possibilities are endless.  So simple, yet so delicious!  Enjoy! 
Buon Appetito!
Subscribe to our YouTube channel for more videos! 
Follow us on Instagram and tag us with your culinary magic! We would love to see how you make this recipe!
---

40+ Years of Innovation | 100% Made in Italy
Built to Last | Superior Design & Construction