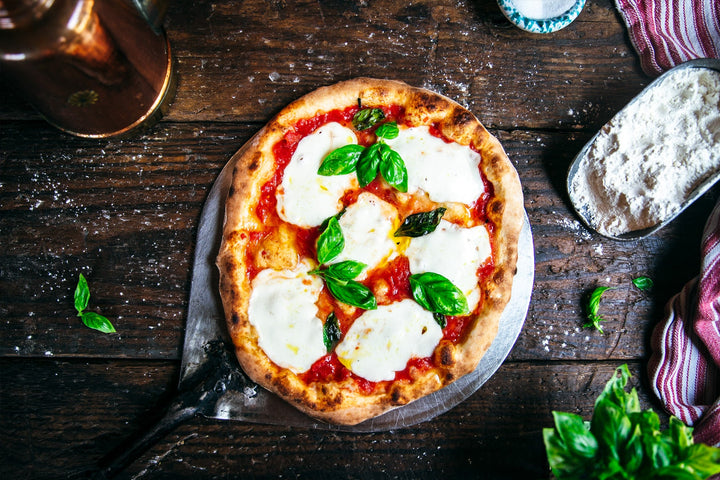 Pizza Margherita 
Recipe:
Tomato, Mozzarella, Basil and a quick drizzle of good olive oil. Few and simple are the ingredients, but the Pizza Margherita is to this day the most loved.  Many claim to know the true birth of this iconic Pizza, but one version claims that in the summer of 1889, when the King of Italy, Umberto I of Savoia and his wife Queen Margherita of Savoia came to visit Naples, Chef Raffaele Esposito dedicated this special pizza to her.  He chose the colors of the Italian flag by topping the flat bread with red tomato sauce, white mozzarella, and green basil leaves and called it Margherita.  Could this possibly be the most plausible beginning of the humble Pizza Margherita?  Who knows!  Let's get started! 
Supplies:
 Ingredients: 
675 grams mozzarella
28 oz San Marzano tomatos, crushed 
Small bunch of basil leaves
Salt to taste
Olive oil
Pinch of sugar
Directions:  
Preheat The Marinara Oven to 750°- 800°F - 398°- 426°C.  (If you purchased the Saputo Stones, the internal temperature of the oven can reach 850°-900°F - 454°-482°C.)
Crush the tomatoes and add a small pinch of sugar and salt to taste. 
Lightly dust the work surface with flour. 
Stretch the dough with both hands, as shown in the video. 
Add the tomato sauce in the center of the of the stretched dough and spread it out with a circular motion.  Avoid going over the border. 
Arrange the mozzarella as well as the fresh basil leaves on the pizza.  
Drizzle with some good olive oil, and season with a sprinkle of salt if needed.  
Check the internal temperature of the oven with the infrared thermometer in the place where you intend to place the pizza.
Transfer the pizza from the table to the perforated peel with a swift movement.  Slide the pizza into the preheated oven with a quick, swift movement.  Partially close the door to retain the heat inside the oven. 
Slowly rotate the pizza with the turning peel until the crust is evenly cooked on all sides.
Remove from the oven and add fresh basil leaves to top it off.  Enjoy! 
Buon Appetito!
Subscribe to our YouTube channel for more videos! 
---

40+ Years of Innovation | 100% Made in Italy
Built to Last | Superior Design & Construction