Giulia's Piselli alla Fiorentina - Florentine Peas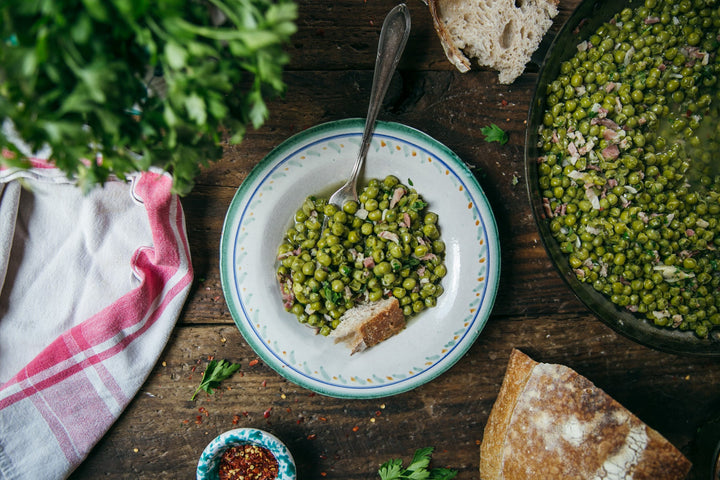 Giulia's Piselli alla Fiorentina - Florentine Peas
Recipe:
Piselli alla Fiorentina are one of those delicious, simple and loved comfort foods of the Florentine cuisine. Certainly a timeless side dish that is even better the day after. Ideally, freshly shelled peas bought at the local open market are the optimum choice, but even good quality frozen peas will result in a great dish.  Peas accompanied by pancetta, a little garlic, fresh parsley, salt to taste and a little sugar are all you need!  We followed Giulia Scarpaleggia's recipe and it was absolutely delicious!  Her passion for Tuscan cooking is portrayed in her enthusiastic cookbook called From the Markets of Tuscany.  If you love Italian cuisine, this cookbook is an absolute must have!   
Supplies:
Ingredients:
400 grams (14 oz) shelled peas (about 1 kg or 2 lb with shells)
3 tbsp extra virgin olive oil
2 garlic cloves
1 small bunch fresh parsley
1 tsp sugar
Salt 
Freshly ground black pepper
1 cup water
50 grams (2 oz) pancetta, sliced into thin strips
Directions:
Giulia Scarpaleggia has graciously allowed us to share her absolutely delicious recipe with all of you.  Her directions, mixed with some of our personal twist, are what we present to you.  Thank you, Giulia for always inspiring and encouraging us to continue to find the joy and passion in Tuscan cuisine.  More of Giulia's incredible recipe's can be found in her cookbook From the Markets of Tuscany.  Enjoy!   
Preheat the cast iron cooking surface of the Wood Fired Pizza Oven.
If you found fresh peas, make sure to shell them and collect the peas in a bowl.  We were only able to find frozen peas as mentioned in the video.
Giulia's recipe directs to place the peas in a pot together with the garlic, parsley, sugar, salt and pepper.  It then calls to cover the mixture with a cup of water and let stew on low heat for about 40-45 minutes.  When the peas are nearly done, she adds the sliced pancetta and lets it cook together for a few minutes to flavor.
We took her steps a little bit differently, by first drizzling some olive oil in the preheated pan.  We then added the garlic as well as the pancetta. The peas were then put in the skillet along with the chopped parsley, sugar, salt, pepper and a cup of water.  As shown in the video, we covered the peas with a lid on low heat and allowed the mixture to stew for 40-45 minutes. 
As Giulia directs, let the peas rest for about 10 minutes before serving as a side dish, or as a main dish served with fresh bread to sop up their juices.     
Buon Appetito!
Subscribe to our YouTube channel for more videos! 
Follow us on Instagram and tag us with your culinary magic! We would love to see how you make this recipe!
---

40+ Years of Innovation | 100% Made in Italy
Built to Last | Superior Design & Construction