Rigatoni with Leeks and Sausage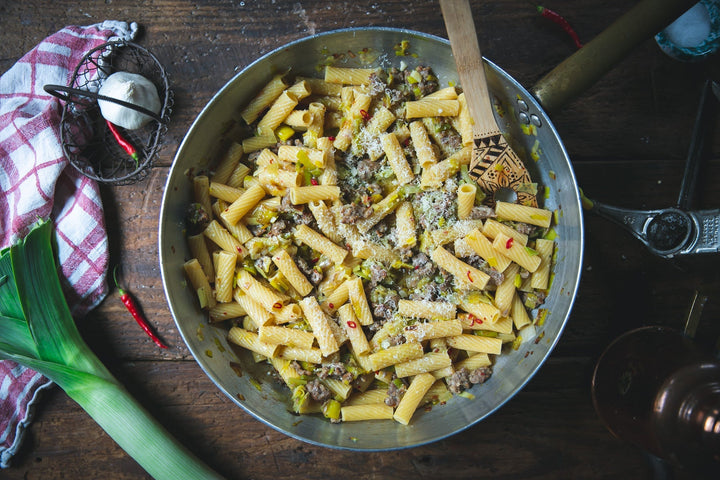 Rigatoni with Leeks and Sausage 
Recipe:
Rigatoni with Leeks and Sausage are one of those unforgettable comfort foods that simply remind me of cherished moments around the kitchen table, surrounded by family and friends while eating together.  Although extremely simple in its preparation, this rustic and flavorful pasta dish consists of a perfect marriage of leeks and sausage served over rigatoni.  This simple dish will certainly make its way back over and over again as a loved family meal.  Let's get started!
Supplies:
Ingredients:
1 bag Rigatoni pasta
3 stalks of leeks
3-4 sausages (preferably without fennel)
2 large garlic cloves
Cayenne pepper flakes to taste
Salt to taste
Olive oil
Parmigiano Reggiano 
Preheat the oven to 375°F - 190°C.
With the help of a sharp knife slice the leeks in half long ways, and then into about 1/2 inch sections.
Submerge the leeks into cold water and rinse thoroughly while massaging them, thus removing all of the sand and impurities.
Take the sausage out of the casing and break into small sections.
Drizzle olive oil into the preheated pan.  Add the minced garlic and hot pepper flakes to the pan.  Make sure the garlic does not turn brown as it will change in flavor.  Immediately add the sausage to the pan as well, and place back into the oven to brown. 
Once the sausage has browned, place the wet leeks into the pan.  Stir well, cover with a lid and transfer the pan back in the oven to marry with the sausage and leeks.  
Pour the pasta into the salted, boiling water.  
Once the leeks have wilted, remove the pan from the oven and add the pasta still 'al dente' directly to the pan. 
Make sure to add a ladle or two of the cooking water to the pan and place  back into the oven for just a few minutes stirring frequently.   
Remove from the oven and top with grated Parmigiano Reggiano and a drizzle of good, extra virgin olive oil.  Enjoy! 
Buon Appetito!
Subscribe to our YouTube channel for more videos! 
Follow us on Instagram and tag us with your culinary magic! We would love to see how you make this recipe!
---

40+ Years of Innovation | 100% Made in Italy
Built to Last | Superior Design & Construction