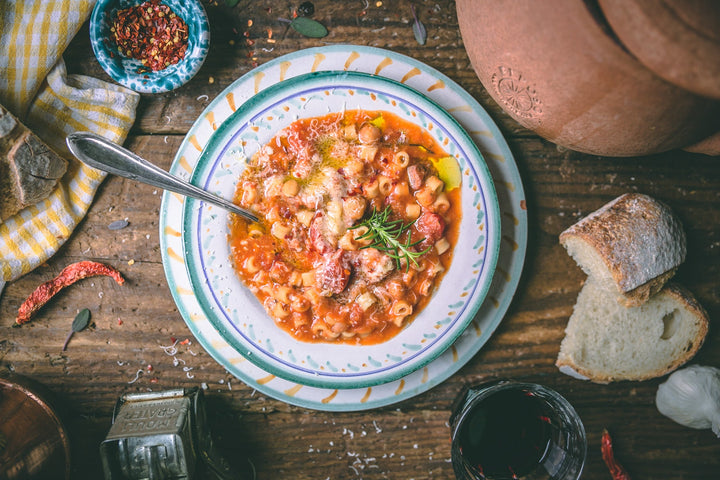 Pasta E Ceci
Pasta e Ceci is is a delicious, classic Italian dish of the "Cucina Povera", meaning of simple and humble beginnings of a "Poor Kitchen".  Leave it up to hard times when those in charge of the kitchen have created a timeless dish appreciated by so many throughout centuries by just using simple, inexpensive ingredients. 
The star of today's dish is a legume called Ceci (garbanzo beans). Not only can these seeds be transformed into the best hummus, chana massala, or falafel, but today they will be prepared in a delicious stew. Garbanzo beans are a powerhouse of flavor, rich in protein as well as fiber, potassium, vitamins C and B-6. 
This rustic stew is one that will warm any heart on a cold day or any day of the year!  The flavors of the rosemary, sage and garlic married with the garbanzo beans and tomatoes and finished off with the ditalini pasta will be an absolutely delectable combination of flavors.   
Recipe:
Supplies:
Wood-fired oven
Infrared thermometer
Oven safe pot
Sauté Pan 
Ingredients:
250 grams ceci (garbanzo beans)
4 cloves garlic
200 grams ditalini pasta
100 grams sausage (optional - we had some leftover)
150 grams cherry tomatoes 
250 grams canned tomatoes
10-11 sage leaves
2 sprigs rosemary
Salt to taste
Pinch of sugar to cut down acidity
Hot pepper flakes to taste
Olive Oil
Parmigiano Reggiano for dusting
Directions:
If using dried ceci (garbanzo beans), soak them in a bowl with cold water and allow to hydrate overnight, covered with a tea cloth. Be aware that the beans will triple in size when fully soaked.
Preheat wood-fired oven to about 250-275℉; 121-135℃
Once the beans have been hydrated and the oven is at temperature, simmer with a couple cloves of garlic and a sprig of sage for 60-90 minutes, just until tender but not mushy.  
Drizzle olive oil into a frying pan.  Add the whole rosemary sprigs, sage, garlic and hot pepper flakes and sauté.
Add halved cherry tomatoes to the frying pan and allow everything to marry. 
At this point, place the sausage to the pan along with the tomatoes, garlic, sage and rosemary.  For a vegetarian dish omit sausage.
Pour the crushed tomatoes to this mixture and allow to cook down.
Remove 3/4 of the beans from the pot and add them to the tomato mixture. 
Salt to taste.
With the handheld blender, cream the remaining beans in the pot with the leftover water. 
Add the garbanzo bean and tomato mixture to the pot with the creamed ceci.  Sprinkle a pinch of sugar to cut the acidity of the tomatoes.  Allow to come to a boil. 
Once it has come to a boil, add the ditalini pasta and give a good stir.
Place in the oven for about 15 minutes.
Carefully take the pot out of the oven and serve immediately.  Dust the top with Parmigiano Reggiano and you are ready to eat!
Buon Appetito!
Subscribe to our YouTube channel for more videos! 
Follow us on Instagram and tag us with your culinary magic!
@FontanaForniusa   #fontanaovens
---

40+ Years of Innovation | 100% Made in Italy
Built to Last | Superior Design & Construction