Runeberg Cake - Runebergintorttu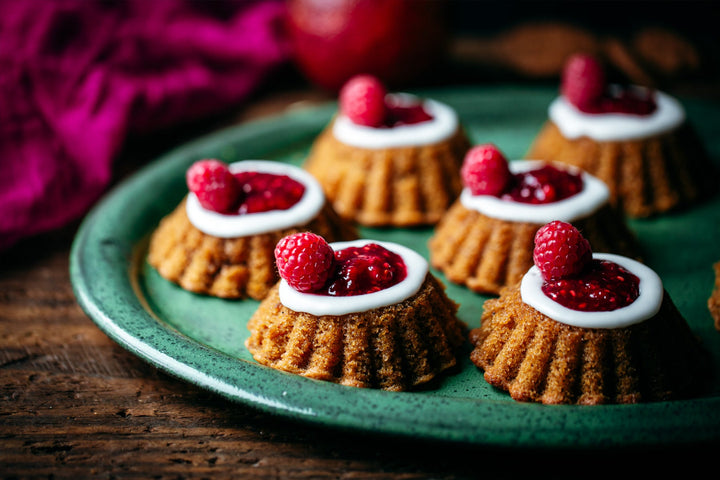 Runeberg Cake - Runebergintorttu 
Recipe:
Runebergintorttu is a Finnish - Swedish dessert named after the famous poet Johan Ludwig Runeberg (February 5, 1804 - May 6, 1877).  His wife Fredrika in order to satisfy her husband's sweet tooth used what she had on hand in her kitchen to create what has now become a national dessert to celebrate the poet's birth. There are two things that we have in common with the Runeberg family; a large family of six kids and a husband who has a very sweet tooth!  Let's get started!
All credits for this recipe are given to one of the bakers we enjoy following the Bake Street.  
Supplies:
Muffin Tray or Brioche Molds 
Saucepan and whisk
Ingredients:
For full detailed recipe by Bake Street click HERE. 
Bake Street Instagram page @bakestreet.
FOR THE BATTER:
280 gr AP flour - we used flour from Molino Denti - Farina per Dolci
90 gr crushed gingerbread cookies 
60 gr ground almonds
3 large eggs
125 gr whole milk
200 gr unsalted butter at room temperature
80 gr sugar
130 gr dark muscovado sugar - dark brown sugar
2 Tbsp molasses
110 gr freshly squeezed orange juice
one orange zest
15 cardamom pods, crushed to a powder and shell removed
1 tsp natural sweet almond extract
2 tsp baking powder
1 tsp salt
FOR THE SYRUP:
115 gr water
115 gr sugar
2 Tbsp rum
FOR THE SUGAR ICING:
75 gr icing - powdered sugar
12 gr milk
few drops natural sweet almond extract
FOR DECORATING:
raspberry preserves - we used three tablespoons raspberry preserves and 3 hand-fulls of fresh raspberries crushed and mixed with the preserves. 
Directions:
We followed the amazing recipe by the Bake Street.  For full detailed recipe click HERE.
Preheat the oven to 355°F - 180°C.
Using the Runeberg Cake Recipe follow along in our video tutorial above.  This is a delicious treat not only for Johan Ludvig Runeberg's anniversary, but also for any special occasion.  Enjoy!
Buon Appetito!
Thanks Molino Denti for sending us samples of your Italian flour.  
Subscribe to our YouTube channel for more videos! 
Follow us on Instagram and tag us with your culinary magic! We would love to see how you make this recipe!
---

40+ Years of Innovation | 100% Made in Italy
Built to Last | Superior Design & Construction