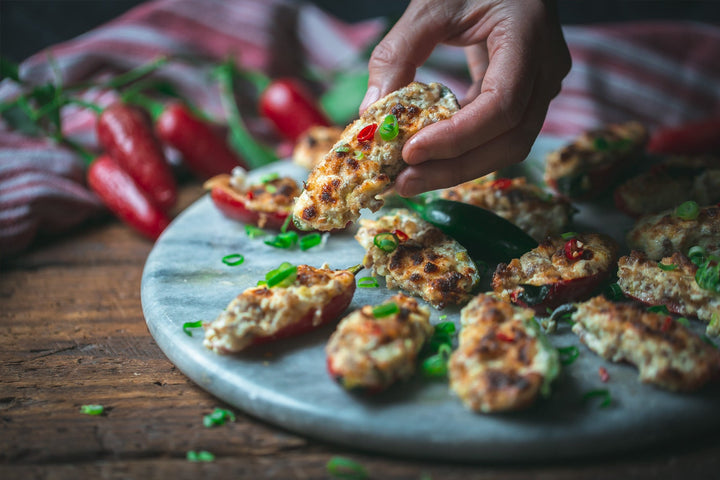 Jalapeño Poppers
Recipe:
Hot and spicy Jalapeño Poppers stuffed with cream cheese and sausage are the hit appetizer for any occasion.  These hot little guys are simple to make, incredibly flavorful and glorious to eat.  Don't let the jalapeños scare you as the cream will definitely tone down the intensity of the heat and these small bites of intense goodness will certainly become a go-to recipe for years to come.  For a vegetarian version these little morsels are delicious even by omitting the sausage.  Make sure to wear gloves when handling fresh jalapeños as they are extremely hot. Let's get started!
Supplies:
Gloves - these are a MUST to wear

Oven safe baking dish or oven safe skillet.  
Ingredients:
12 jalapeños
8 oz (226 grams) cream cheese
4 oz (120 grams) white cheddar cheese
2 links sausage (optional)
2 cloves garlic
2 green onions
10 grams bread crumbs for dusting
Directions:
Preheat the oven to 425°F - 220°C.
Cut jalapeños in half lengthwise while wearing gloves. 
Remove the seeds and white pith (ribs) from the jalapeño and discard.  The spiciness comes from the seeds, pith and ribs.  **The ribs and pith can remain in the jalapeño if spicy poppers are desired.
Sauté the ground sausage until lightly browned.  Drain the grease from the sausage.  
Chop the green onion and crush the garlic.  Keep some of the sliced green onion aside for garnish.
In a bowl, mix the cream cheese, cheddar cheese, garlic, and green onion.
Fold in the sausage with the cheese mixture until incorporated.  
Fill the jalapeño halves with the cheese mixture and place the filled boats in a baking dish.
Sprinkle each jalapeño popper with bread crumbs.  This is totally optional.
Place in the preheated oven and bake for about 20 minutes or until bubbly and golden brown. 
Take the poppers out of the oven and sprinkle with reserved green onion for garnish.  They are ready to eat.  Enjoy!
Buon Appetito!  
Subscribe to our YouTube channel for more videos! 
Follow us on Instagram and tag us with your culinary magic! We would love to see how you make this recipe!
---

40+ Years of Innovation | 100% Made in Italy
Built to Last | Superior Design & Construction