Linzer Shortbread Cookies - Spitzbuebe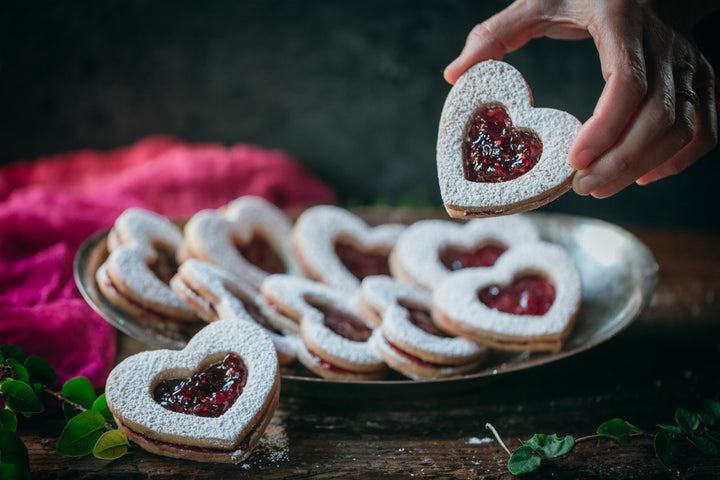 Linzer Shortbread Cookies - Spitzbuebe
Recipe:
Spitzbuebe, or Linzer Shortbread cookies are a most delicious treat perfect for any special and festive occasion.  Usually prepared for Christmas in Switzerland with the name of Spitzbuebe, these cookies are a perfect sweet treat for Valentine's Day as an expression of love and affection.  Known for its flaky, buttery crumb and finally lightly dusted with powdered sugar, they definitely become a symphony of flavors.  This mouthwatering cookie is simply made by stacking one layer over the other, and a thin spread of jam sandwiched in between.  Let's get started!
Supplies:
Baking sheet

Parchment paper

Rubber spatula 

Rolling pin 
Ingredients:
1 jar preserves of your choosing, we used raspberry preserves
Powered sugar for dusting 
Directions:
Preheat the Gusto Oven to 350°F - 176°C. 
Take the Sablée Pastry Dough out of the refrigerator.
Since two cookies will be stacked on top of each other after they are baked, roll out the dough out a little less than 1/4 inch thickness.
Cut out the dough with a heart shaped cookie cutter.
Carefully transfer and place the cookies onto a baking sheet lined with parchment paper.
Bake the cookies for 10-12 minutes, until lightly golden brown.
Once the cookies have cooled, spread a thin layer of preserves on the base of the whole cookie.
Place the cookie with the small heart cut out on top of the preserves.  Continue doing this until all the cookies are matched up.
Dust them lightly with powered sugar. They are ready to be served or they can be stored in a tin box with a tight lid.  Enjoy! 
Buon Appetito!
Subscribe to our YouTube channel for more videos! 
Follow us on Instagram and tag us with your culinary magic! We would love to see how you make this recipe!
---

40+ Years of Innovation | 100% Made in Italy
Built to Last | Superior Design & Construction