"Healthy" Chocolate Pie Recipe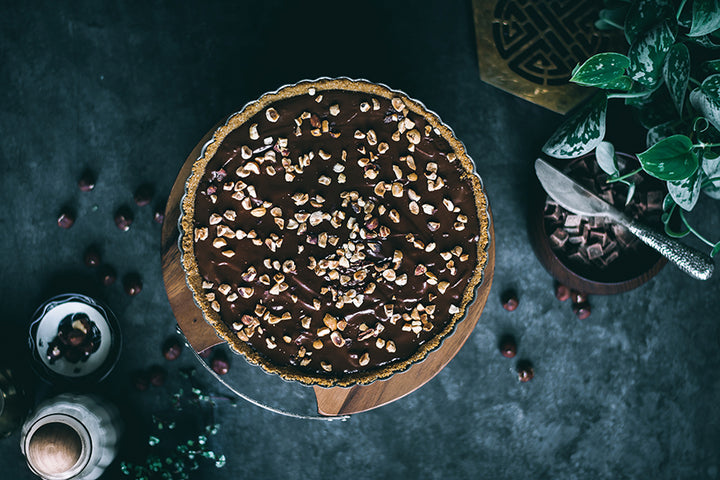 Everyone loves a decadent dessert but as we're recovering from the holiday feasts and fêtes, we wanted to experiment with a healthier version of chocolate pie. Using superfoods dark chocolate and avocado, it is served in a gluten-free almond crust too. Feel free to indulge without the guilt!
And if you don't want to fuss with making a crust, you can easily substitute a pre-made, store-bought one. Plus, you can add so many different toppings to give it your own unique flavor combo.
Prep-Time: 15 mins.
Cook Time: 15 mins. (plus overnight cooling time) 
Servings: 1 pie (about 6 slices)
Difficulty: Low
Supplies:
Fontana Forni USA oven (if making gluten-free pie crust below)
Pie pan (or pre-made crust)
Large mixing bowl
Spatula
Ingredients: 
185 g melted dark chocolate chips (regular or dairy free)

80 g maple syrup

240 g avocado (peeled & pitted; approx. 1 or 2 avocados depending on size)

220 g cooked sweet potato (peeled)

15 g dark cocoa powder

1 pinch of salt

35 g powdered sugar

Ganache topping (optional)

125 g dark chocolate chips

30 g coconut oil

Sprinkle top with chopped nuts (hazelnut, almonds, etc.)
Directions:
1.) Combine all ingredients in a food processor and blend until smooth and creamy.
2.) Pour into pre-cooked almond-flour crust and smooth out.
3.) Place pie in refrigerator overnight (or 3 hours in Freezer) until set. 
4.) For the optional ganache topping, melt chocolate chips and oil together using a microwave or water bath. 
4.) Pour ganache topping over the pie and place back in the refrigerator to set for at least 1 hour. You can also leave it overnight.
5.) To serve, dust pie with cocoa powder and nuts if desired.
Buon Appetito!
Subscribe to our YouTube channel for more videos! 
Follow us on Instagram and tag us with your culinary magic! We would love to see how you make this recipe!
---

40+ Years of Innovation | 100% Made in Italy
Built to Last | Superior Design & Construction