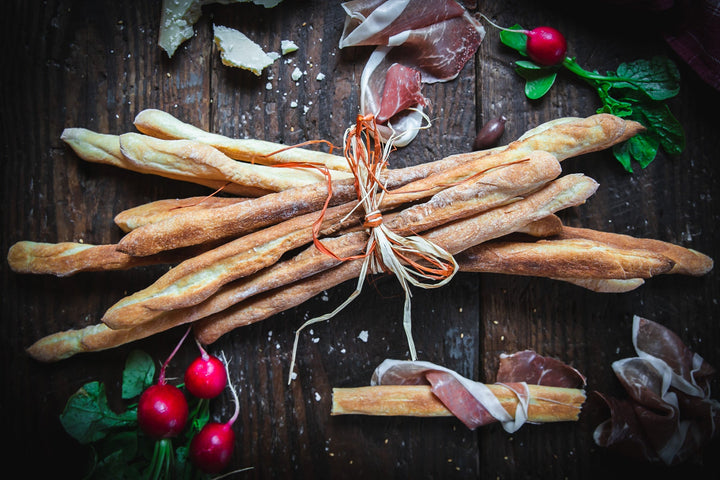 Grissini
Recipe:
Grissini are an unmissable, crispy bread stick usually served when sitting at a table in Italian restaurants.  Today its fame has spread around the globe and these rustic  breadsticks have become a perfect addition for antipasti before a meal or simply as a delicious crunchy snack.  Just a few simple steps are necessary, and only a few basic ingredients are needed to easily create this Italian classic.  Baked in the wood-fired oven elevates grissini to a whole new level.  Let's get started!
Supplies:
Mixing bowl
Knife
Parchment paper 
Baking sheet
 Ingredients:
1 1/2 tsp active dry yeast
5 grams diastatic malt powder 
300 grams water
500 grams All Purpose Flour
8 grams salt
15 grams lard (optional) 15 extra grams of olive oil can substitute the lard.
30 grams olive oil
Directions:
Preheat The Marinara Pizza Oven to 400°F - 200°C.
Mix together the yeast, malt powder and a little bit of water into a bowl.  Set aside. 
In a large bowl mix together the salt and flour.  
Incorporate the oil and the lard into the flour by rubbing both hands throughout the flour, as shown in the video. 
With the help of one hand create a well in the center of the flour.  Pour the remaining water, as well as the yeast mixture into the well.
Begin incorporating the dry and wet ingredients with a rubber spatula or hands.
Once the wet ingredients have been incorporated into the flour, begin kneading the dough with both hands, until mostly smooth.  Cover the dough and allow it to rest for about 10 minutes.
Knead the dough once again until it has a shiny, smooth surface.  Transfer the dough into a bowl and cover it with plastic wrap or a damp towel.  Allow it to rise in the refrigerator overnight, or on the countertop for about 2 hours, or until it has doubled in size.
Once the dough has doubled in size, gently remove it from the bowl, being careful not to degas it.
With both hands gently shape the dough into a rough rectangle.  Cut strips from the shorter part of the dough with a long knife.  Gently pull each piece into long strands being careful not to degas the dough, and stopping as soon as there is resistance.
Transfer on a baking sheet lined with parchment paper.
Allow the strips to rise for about 10-15 minutes.
Check the oven temperature with the infrared thermometer, place the pans inside and close the door. 
Bake the strips for about 10-12 minutes, or until the bread sticks are a light golden brown.  
Remove from the oven and allow the bread sticks to completely dry out and cool.  
Once cooled they are ready to be enjoyed!  Simply served before a meal, as a snack or accompanied by an antipasto with a variety of cheeses, cold cuts, olives, and veggies, Grissini will certainly become a delightful bread to add to your recipes .  Enjoy! 
Buon Appetito!
This recipe is shared with permission by Lorenzo Boni, Executive Chef for Barilla America.  Follow him on Instagram for wonderful pasta dishes. 
Buon Appetito!
Subscribe to our YouTube channel for more videos! 
Follow us on Instagram and tag us with your culinary magic! We would love to see how you make this recipe!
---

40+ Years of Innovation | 100% Made in Italy
Built to Last | Superior Design & Construction