Fritto Misto - Fried Veggies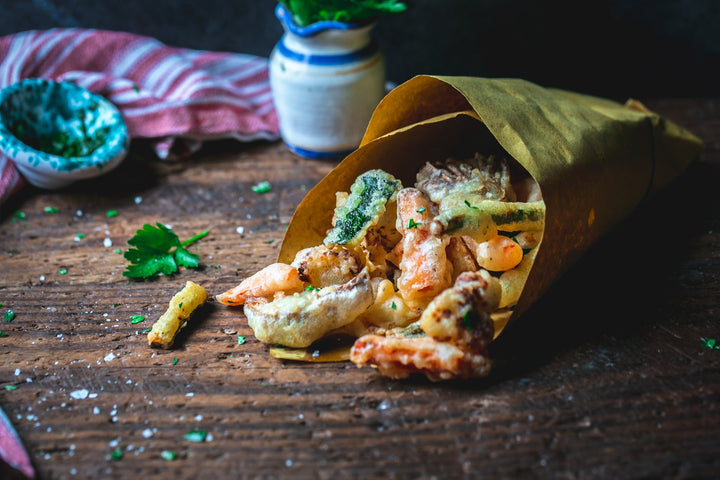 Fritto Misto - Fried Veggies
Recipe:
Mixed, Fried Vegetables - Fritto Misto di Verdure is a delicious Italian, vegetarian appetizer perfect to serve at any occasion.  These crispy, fried vegetables are sure to be an instant hit. In this recipe you will learn how to make this traditional batter for dipping and frying reminiscent of street food found in any Italian outdoor market.  Let's begin!
Supplies:
Ingredients:
For the batter:
250 grams Denti Flour Frittodoro or all purpose flour
1/8 teaspoon baking soda
1/2 teaspoon salt
1/4 teaspoon black pepper
350 grams cold soda water
For the veggies (various types of vegetables can be used):
10-15 asparagus heads
1/2 eggplant 
1 zucchini
1 fresh artichoke heart
1/2 cauliflower
2 carrots
1 red bell pepper 
frying oil (vegetable, peanut, or canola oil)
Directions:
Preheat the  cast iron stove top of the Wood Fired Pizza Oven.
Prep the veggies by cutting them into bite sized pieces, as shown in the video.  
In a bowl mix together the flour, baking soda, salt and pepper.  The flour used for this recipe contains potato starch, semolina flour, rice flour and 00 flour.  
Add very cold soda water to the dry ingredients and thoroughly mix together.  Allow to rest for at least 5 minutes.  Place the bowl containing the batter into a larger bowl filled with ice.  Doing this will keep everything very cold preventing the batter covered vegetables from absorbing too much oil.  The shock of the cold batter placed directly into the hot oil, will immediately crisp them up.
In a deep pan, heat the oil over the stovetop.  With a food thermometer make sure that the temperature of the oil does not exceed 360°F-180°C degrees.
Coat each veggie with the cold batter by dipping them one by one, and immediately place in the hot oil.  Make sure not to over crowd the veggies as this will make them stick together (a mistake we made with the carrots), and it will also cool the oil too quickly.
Allow the veggies to fry until lightly golden brown, about 5 minutes.
Carefully remove the fried veggies with a mesh skimmer and place them on a paper towel or food safe paper to soak up the excess oil. 
As soon as each batch is drained from the excess oil, move the veggies into a preheated oven to keep them warm, making sure to keep the door partially opened and the veggies uncovered.  Doing this will allow any possible humidity to escape and keep the veggies crispy.  
Top with some fresh parsley and coarse sea salt.  Serve immediately.  Enjoy!  
Buon Appetito!
Subscribe to our YouTube channel for more videos! 
Follow us on Instagram and tag us with your culinary magic! We would love to see how you make this recipe!
---

40+ Years of Innovation | 100% Made in Italy
Built to Last | Superior Design & Construction