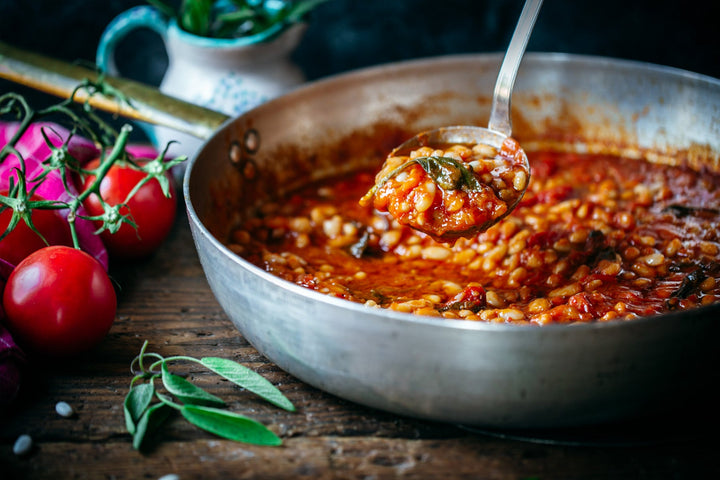 Fagioli all'Uccelletto
Recipe:
Fagioli all'Uccelletto is definitely one of the most classic, timeless Italian dishes that depicts the delicious, traditional Tuscan cuisine.  Commonly served as a side dish to meats such as Bistecca alla Fiorentina, or sausage grilled on hot coals, these legumes are also a perfect vegetarian choice when simply served alone, or on a slice of toasted tuscan bread drizzled generously with excellent olive oil. As a healthy source of protein, this inexpensive legume will be a perfect choice when accompanied to a great variety of dishes.  Let's get started!
After the discovery of the Americas beans were a precious gift brought back and introduced to Europe.  In no time at all the Florentines fully adopted these tiny legumes, and made them one of the most loved staples not only in their kitchens, but also a must have dish in their trattorie and restaurants.    
Supplies:
Dutch Oven or Terra Cotta cooking Pot
Frying pan
Ingredients:
400 grams dried cannellini beans
5 garlic cloves
Two sprigs of sage
340 grams canned tomatoes (12 oz can) or a few very fresh tomatoes
350 grams cherry tomatoes - optional
Salt to taste
Pinch of sugar (this will cut the acidity of the tomatoes)
Cayenne pepper flakes to taste
Black pepper to taste
Olive oil
Directions:
The night before cooking the beans, soak your dried cannellini beans for at least 8 hours.  Simply place them in a bowl, cover them with plenty of cold water, cover and allow them to rest overnight.  Remember that the beans will double in size so make sure to be generous with the water. 
On the day of cooking preheat the wood-fired Marinara oven to about 200°F - 90°C.  
Drain the beans from their water and rinse.
Place the beans in a Dutch oven, as well as the fresh sage leaves, and the garlic "in camicia" with the skin on.  Add the water over the beans,  as well as a generous drizzle of olive oil.  Be mindful to add enough water as the beans will triple in size.  Cover with a lid leaving just a small opening, and very gently allow to simmer for 35-40 minutes inside the oven.  It is best to place the Dutch oven on the opposite side of the fire.  In Tuscany it is said that the beans should not boil so hard that they chase after each other.  They should instead only gently dance as the water simmers so as to keep them intact.  
Once the beans come to a simmer, they will create a foamy layer on the surface of the water.  Take a ladle and remove the foam.  Cover once again, and place back into the oven. 
Drizzle olive oil into a preheated pan.  Add hot pepper flakes, garlic "in camicia", with the skin on, sage and finally the cherry tomatoes. Cover with a lid.  Blister the tomatoes until nicely caramelized.
Pour in the crushed tomatoes or diced fresh tomatoes.  Sprinkle in the salt, black pepper and a pinch of sugar.  Give everything a good stir and allow it to simmer and reduce.  
Take the beans out of the oven making sure to reserve some of the cooking water before you remove them from the pot with a strainer.  
Add the beans to the tomatoes as well as a ladleful or two of the cooking water.  Allow everything to marry for about 10 minutes.  Drizzle once again with additional olive oil and serve as a side dish or over toasted bread.  Enjoy! 
Buon Appetito!
Subscribe to our YouTube channel for more videos! 
Follow us on Instagram and tag us with your culinary magic! We would love to see how you make this recipe!
---

40+ Years of Innovation | 100% Made in Italy
Built to Last | Superior Design & Construction