Crostini with White Truffles and Mushrooms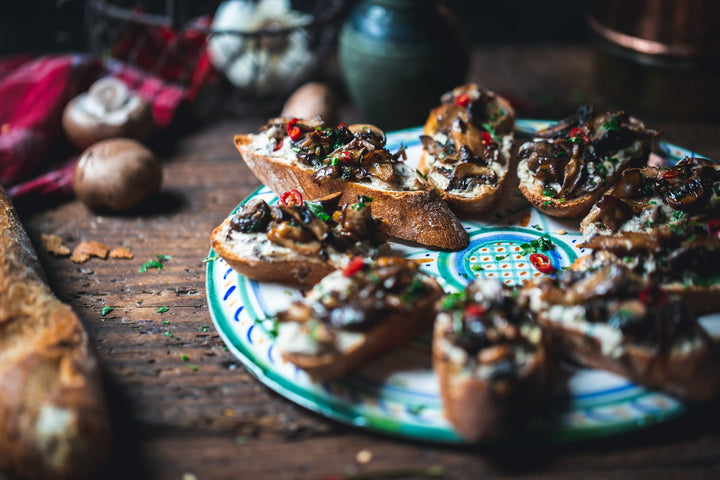 Crostini with White Truffles and Mushrooms
Recipe:
Mushrooms are such a glorious and versatile gift of nature. Here is just one of the many ways to prepare them. CROSTINI topped with roasted mushrooms and spread over a creamy truffle and cream cheese paste, are a mouthwatering appetizer perfect for any occasion when baked in a wood-fired oven. Simple to make and perfect to prep ahead of time.  Let's get started!
Supplies:
Ingredients:
180 grams White Truffles and Mushrooms paste 
70 grams cream cheese
250 grams fresh mushroom medley
70 grams frozen porcini mushrooms 
Salt to taste
Cayenne pepper to taste (optional)
Small bunch of parsley 
Extra Virgin Olive Oil as needed
1 French baguette 
Directions:
Preheat the Marinara Wood Fired Pizza Oven to 375°-400°F  - 190°- 204°C.
Clean the mushrooms with a damp cloth and slice them.  Set aside. 
Mince the garlic and cayenne pepper and also set aside.  
With a handheld mixer, mix together the cream cheese with the White Truffle and Mushrooms paste.    
Drizzle some olive oil into a preheated skillet.  Add the garlic, hot pepper and mushrooms to the pan.  Give them a quick stir and place the skillet back into the oven.
Once the mushrooms have browned and caramelized in spots add the salt and part of the parsley reserving the rest for garnish.  Toss and stir and place them back into the oven for just a minute.  Make sure to add the salt only at the end. Salt releases all the moisture in the mushrooms steaming them rather than roasting them. 
Once the mushrooms have turned golden brown with visible caramelization remove them from the oven.  They have now intensified in flavor and turned beautifully golden brown. 
Cut the baguette into slices and place them on a pan.
Spread the mushroom and cream cheese spread on the bread, and place the roasted mushrooms on top of each piece. 
Slide the crostini back into the oven for just a few minutes or until the bread has toasted a bit, and the cheese and paste are creamy.
Remove them from the oven and sprinkle with additional parsley, some hot pepper flakes and a drizzle of olive oil.  They are ready to be eaten immediately!  Enjoy!    
Buon Appetito!
Subscribe to our YouTube channel for more videos! 
Follow us on Instagram and tag us with your culinary magic! We would love to see how you make this recipe!
---

40+ Years of Innovation | 100% Made in Italy
Built to Last | Superior Design & Construction