Cherry Tomato BRUSCHETTA prepared in the Fontana wood-fired oven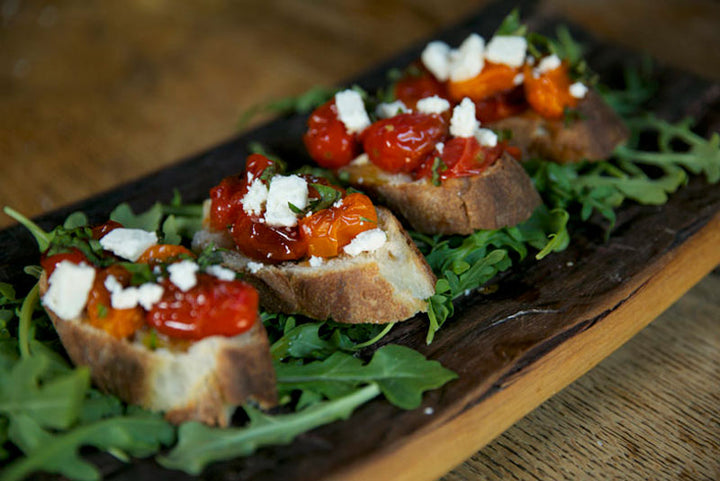 When tomatoes are fresh and plentiful in the summer, it is so satisfying to find countless ways to preparing them and putting them to delicious use. Today we will make oven roasted tomato Bruschetta topped with fresh basil and Feta cheese. Simple and delicious! Here is the link for the recipe on how to roast the cherry tomatoes in the Fontana wood-fired oven. You can also check out our sausage and cheese bruschetta (crostini salsiccia e formaggio) for yet another idea to a delicious appetizer.
Follow this link for directions to roasting cherry tomatoes and a delicious pasta recipe prepared with oven roasted tomatoes.
Slice the baguette and set each piece on a serving dish. You can also slightly toast each piece by placing it on a pan and into the hot oven for one minute.
Once slightly toasted place them on a platter. We have chosen to top this wooden serving platter with a bed of fresh arugula. Several slices of bread are placed on top of the arugula and each is drizzled with good olive oil.
The flavorful juice from the tomatoes is also drizzled over the bread.
Now it is time for the the cherry tomatoes previously grilled in the wood-fired oven to be placed on each slice.
Chiffonade fresh basil and spread it across the bruschetta. In Italy we call this CROSTINI ai pomodorini.
You can choose fresh mozzarella or in this case Feta cheese to complete these delicious morsels.
Enjoy!
What is your favorite way to make Bruschetta or Crostini? Try the Sausage and Cheese bruschetta recipe. Would love to have some feedback.
Follow us on Instagram and on Facebook and tag #fontanaforniusa with the image of your creation of bruschetta or crostini with roasted cherry tomatoes made with this recipe.
---

40+ Years of Innovation | 100% Made in Italy
Built to Last | Superior Design & Construction