Spaghetti with Roasted Cherry Tomatoes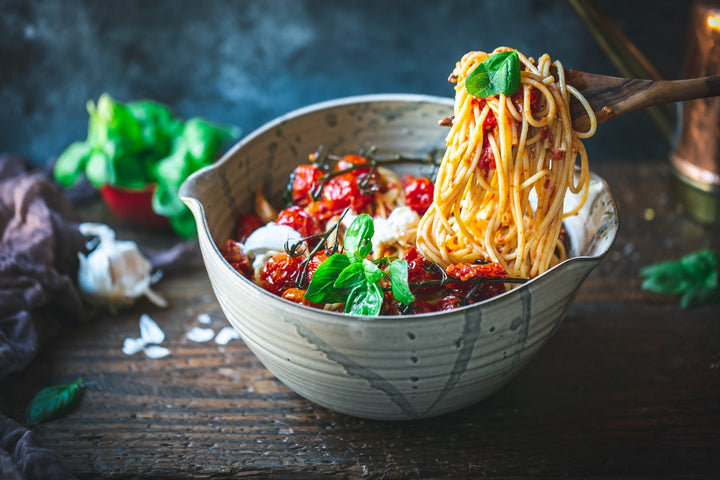 Spaghetti with Roasted Cherry Tomatoes
Recipe:
What would life be like for our large family without some type of pasta served around our kitchen table?  Inexpensive, simple and quick to prepare, pasta has always been a go to for us.  Spaghetti tossed with slow roasted cherry tomatoes are just one of the most flavorful dishes we like to prepare.  Not only are these cherry tomatoes delicious when served alone, but so incredibly good when tossed with spaghetti.  Each morsel is filled with a mouthwatering, intense flavor that results from the caramelization created by this slow roasting process.  Truly an intense symphony of flavors.  Spaghetti with roasted cherry tomatoes is such a colorful, simply beautiful, yet delicious comfort food that our entire family enjoys!  Tossed with fresh basil leaves, drizzled with good olive oil, and topped with burrata, this dish will certainly become a frequent go-to for your family as well.  What great presentation when served in this gorgeous bowl created by Teri Turner at @nocrumbsleft.  Make sure to check out her beautiful pottery.  Let's get started!
Supplies:
NoCrumbsLeft Everything Bowl 
 Ingredients: 
700 grams cherry tomatoes
250 grams cherry tomatoes on the vine (for garnish) 
6-7 garlic cloves
10-15 basil leaves and more for garnish
Olive oil 
Cayenne pepper flakes to taste
Salt to taste 
1 ball of Burrata cheese  
450 grams Spaghetti Barilla
Directions:  
Preheat the Mangiafuoco Wood Oven to 325°-350°F - 162°-176°C and partially close the damper on the chimney.  Make sure to only keep a small fire going.
Place the tomatoes in a large skillet. 
Add the garlic with the skin still on, "aglio in camicia", to the tomatoes.  Top everything with a generous drizzle of olive oil. 
Sprinkle with salt and give it a good toss. 
Gently nestle the tomatoes on the vine into the pan with the rest of the tomatoes.  Drizzle with olive oil and sprinkle them with salt.  These will be perfect for garnish when the dish is served.
Place the skillet in the oven and allow to roast and caramelize for a good hour and a half.  If the temperature is lower than what is suggested above, they can roast up to two hours.  This slow roasting will give the tomatoes a deep, rich and intense flavor.  If the tomatoes begin to brown too quickly, partially cover the pan for some time. 
Halfway through roasting add some of the basil leaves to the tomatoes and place back in the oven.  It will be evident that the tomatoes will release the water, but as they roast even this golden liquid will thicken up and become incredibly delicious.
Once the tomatoes are caramelized remove them from the oven.  
Place the spaghetti into salted boiling water and cook until "al dente".  Mix the pasta directly in the roasting pan.  A ladle of the cooking water can be added to the dish.  Stir in some of the fresh basil.
Transfer everything to the NoCrumbsLeft Everything Bowl, and garnish with the tomatoes on the vine.    
Break up the burrata over the top of the pasta, place additional fresh basil on top, and drizzle with good extra virgin olive oil.  Enjoy! 
Buon Appetito!
Subscribe to our YouTube channel for more videos! 
Follow us on Instagram and tag us with your culinary magic! We would love to see how you make this recipe!
@FontanaForniusa   #fontanaovens
---

40+ Years of Innovation | 100% Made in Italy
Built to Last | Superior Design & Construction