Spaghetti With Brussels Sprouts And Bacon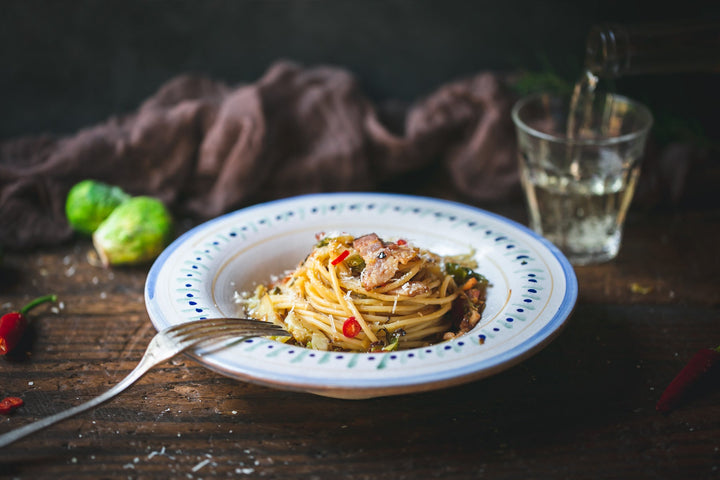 Spaghetti With Brussels Sprouts And Bacon
Recipe:
Oh the infinite beauty of pasta!  Think of a perfect white canvas that can be transformed into countless dishes with unimaginable possibilities.  Today the white canvas is made with deliciously roasted and caramelized Brussels Sprouts accompanied by a symphony of flavors from the bacon, as well as a kick of heat from thinly sliced cayenne peppers.  Finished off with generous dusting of Parmigiano and a good drizzle of olive oil, this dish will be one for the books.  Let's get started!
Supplies:
Sharp knife
Food processor - optional 
Big pot for boiling the pasta
Pan for Brussels sprouts 
 Ingredients: 
450 grams spaghetti - we used Spaghetti Barilla
500 grams Brussels sprouts
300 grams thick cut bacon (pancetta) or guanciale
1 shallot 
2 cloves garlic
1 sprig rosemary
Salt to taste
Splash of white wine 
Cayenne pepper to taste 
Parmigiano Reggiano for dusting 
Olive oil for the pan and for drizzling over the plated dish
Directions: 
Preheat the Mangiafuoco Home Gas Pizza Oven to 425°F - 218°C.  
Remove the yellowed outer leaves from the Brussels sprouts and cut off the very end.
Finely slice the Brussels sprouts with a knife, or in the food processor.
Mince the shallots, the garlic and the cayenne pepper. 
Cube the bacon or cut it into strips.
Place the bacon into the preheated pan and begin to fry it inside the hot oven.
Add the shallots, garlic and cayenne pepper to the bacon as well as the sprig of rosemary.  Place back into the oven and stir occasionally.
Add the thinly sliced Brussels sprouts, give it a quick stir and place back into the oven.  Make sure to stir off and on.
In the meantime place the pasta into a large pot of boiling, salted water.  
Deglaze the beautiful and flavorful fond, which is the caramelization concentrated at the bottom of the pan, with a good splash of white wine.  Allow it to cook out.
Remove the pasta when still AL DENTE (to the tooth), at least 2 minutes before the time indicated on the box, and directly place it in the pan with the Brussels sprouts.  
Add a ladle full of pasta water to the pan and begin stirring all ingredients together.
Plate the pasta and dust with Parmigiano Reggiano and a good drizzle of olive oil.  
Buon Appetito!
Subscribe to our YouTube channel for more videos! 
Follow us on Instagram and tag us with your culinary magic! We would love to see how you make this recipe!
---

40+ Years of Innovation | 100% Made in Italy
Built to Last | Superior Design & Construction