Brown Sugar Bourbon Roasted Pears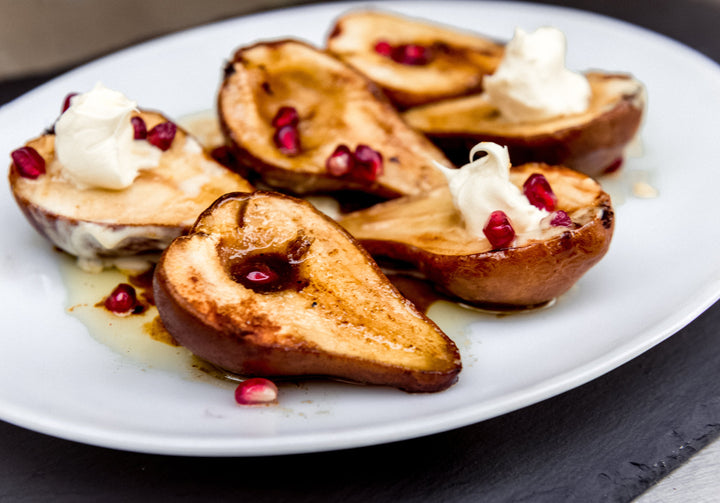 Recipe:
A simple and tasty dessert that is sure to please, any time of year. The subtle notes of citrus and vanilla add depth to the pears while the whiskey adds a little a little extra flare. This is a dessert that won't disappoint.
Supplies:
 Ingredients: 
4 firm Bosc pears
3 tablespoons unsalted butter, cubed
2-3 tablespoons brown sugar
½ teaspoon cinnamon
2-3 tablespoons bourbon whiskey
1 teaspoon vanilla extract
Juice of 1 tangerine or clementine
Garnish:
Crème fraiche
Caramel sauce
Pomegranate seeds
Directions:  
Pre-heat Fontana oven until it reaches an internal temperature of 400 degrees Fahrenheit.

Cut the pears in half and use a spoon to scoop out the seeds and place in baking dish.

Top pears with cubed butter and sprinkle with brown sugar and cinnamon on and around the pears.

Pour whiskey, vanilla extract and tangerine juice around the pears.

Place pears in Fontana oven and cook for 10-12 minutes, until the sauce thickens and slightly caramelizes and the pears are just tender but still hold their shape.

Let pears cool for a few minutes before handling. To serve, drizzle caramel sauce around pears and top with dollops of crème fraiche and pomegranate seeds.
Buon Appetito!
Subscribe to our YouTube channel for more videos! 
---

40+ Years of Innovation | 100% Made in Italy
Built to Last | Superior Design & Construction