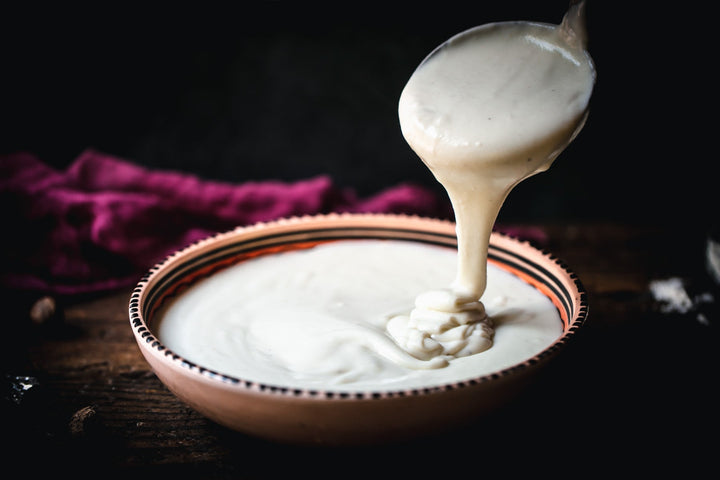 Béchamel Cream Sauce
Recipe:
Besciamella, or béchamel, is the most basic of all Italian mother sauces.  Velvety in texture and incredibly delicate in flavor, this creamy sauce is the basic component used for a great variety of dishes.  Best of all it is prepared in no time at all by simply using just a few basic ingredients such as flour, milk, butter, salt and a bit of nutmeg.  This truly is such a versatile and delicious sauce, and will become a wonderful recipe to add to any kitchen!  Let's get started! 
Supplies:
Large saucepan for the sauce
Saucepan for the milk
Whisk and wooden spoon
 Ingredients:
100 grams butter
100 grams All-purpose flour
1 Liter milk
Salt to taste 
Good pinch of freshly grated nutmeg 
Directions: 
Melt the butter in a large saucepan.
Add the flour to the butter all at once, whisking everything together.  
Allow the butter and flour to cook and bubble for about 2 minutes while constantly stirring with a wooden spoon.  Don't let it brown.  It will come together into a thick, lumpy paste.  You have now just created a roux which is the foundation of béchamel but can also be transformed into a luscious and delicious brown gravy.  Avoid browning the roux as béchamel sauce must not get dark, but retain a white appearance.  
Remove the pot from the heat source and pour a little bit of the milk in with the flour and butter mixture, whisking very well until the milk is completely incorporated.  The other option is to pour the milk all at once in a slow stream while constantly whisking. 
Pour the rest of the hot milk to the pot, whisking as you pour.  It is important to vigorously stir and whisk in order to avoid lumps from forming.
Once all lumps have dissolved, place the pot back on the heat source, and allow the cream to come once again to a simmer in order to thicken.  Make sure to continue stirring to keep the sauce from sticking to the bottom of the pan.
Once the béchamel reaches a thick, creamy and silky consistency, remove from the heat source.  It is now ready to be used for a great variety of delicious dishes!  Enjoy!  
Béchamel can also be stored in the refrigerator for up to 2-3 days.  In order to keep a skin from forming it must be covered with plastic wrap or a tight lid.
Buon Appetito!
Subscribe to our YouTube channel for more videos! 
Follow us on Instagram and tag us with your culinary magic! We would love to see how you make this recipe!
@FontanaForniusa   #fontanaovens
---

40+ Years of Innovation | 100% Made in Italy
Built to Last | Superior Design & Construction