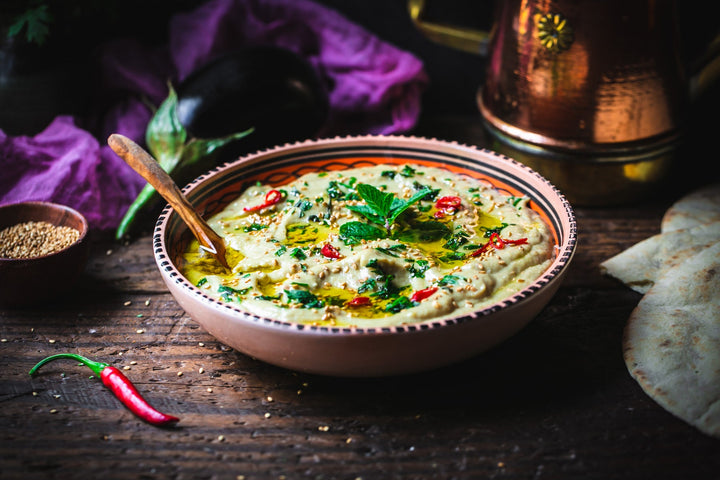 Baba Ganoush
Recipe:
Baba Ganoush is a delicious and simple mediterranean roasted eggplant dip blended with tahini, garlic, lemon juice, a bit of sea salt and a generous amount of good olive oil.  Prepared in no time at all, and simply garnished with fresh parsley and mint, this flavorful dip is perfect when scooped up with an abundance of pita bread, sliced fresh vegetables or as a spread in a sandwich.  Definitely a perfect appetizer, snack or spread for any occasion.  Let's get started!
Supplies:
Baking sheet
Food Processor 
 Ingredients:
2 Italian eggplants
3 cloves garlic
25 grams plain yogurt (optional) 
50 grams tahini
60 grams EVOO
Salt to taste
Small bunch flat leaf parsley for garnish
5 fresh mint leaves for garnish
Thinly sliced cayenne pepper or cayenne pepper flakes to taste
Extra Virgin Olive Oil drizzled on top of the finished dish 
Sesame seeds for garnish (optional) 
Directions:
Preheat the Mangiafuoco Home Gas Pizza Oven  to 400°F - 200°C.
Cut the eggplants in half, and slice the flesh diagonally, as shown in the video.  Set in a baking pan, skin side down.    
Mix about 15-20 grams of olive oil with 1 clove of minced garlic, salt and cayenne pepper flakes or powder.  
Baste the flesh of the eggplant with the garlic and olive oil mixture. 
Place the pan with the eggplant in the oven for about 45 - 60 minutes.  Check occasionally to avoid scorching on top.   A sheet of aluminum foil may be placed on top of the eggplant halves for the initial baking time. 
While the eggplant is baking, begin preparing the rest of the ingredients.  Mince 2 cloves of garlic, thinly slice the cayenne pepper and place them in a bowl.
Add the rest of the olive oil to the bowl, as well as the yogurt, tahini, salt and lemon juice.  Mix everything together. 
Once the eggplant is completely soft and the top is nicely caramelized, remove from the oven. 
With the help of a spoon scrape the flesh away from the skin of the eggplant.  Transfer into a food processor, and mix until smooth. 
Mix the eggplant and tahini mixture thoroughly together.
Lightly toast the sesame seeds in the oven, thus allowing the flavor to become even more intense and delicious.
Chop a few sprigs of parsley and mint leaves.
Plate the blended mixture in a bowl and top it off with a generous drizzle of good olive oil.  Sprinkle toasted sesame seeds over the top, and garnish with the fresh chopped parsley and mint.  Delicious when served with pita bread, freshly cut vegetables or as a wonderful spread!  Enjoy!   
Buon Appetito!
Subscribe to our YouTube channel for more videos! 
Follow us on Instagram and tag us with your culinary magic! We would love to see how you make this recipe!
@FontanaForniusa   #fontanaovens
---

40+ Years of Innovation | 100% Made in Italy
Built to Last | Superior Design & Construction