Arista Farcita - Stuffed Pork Roast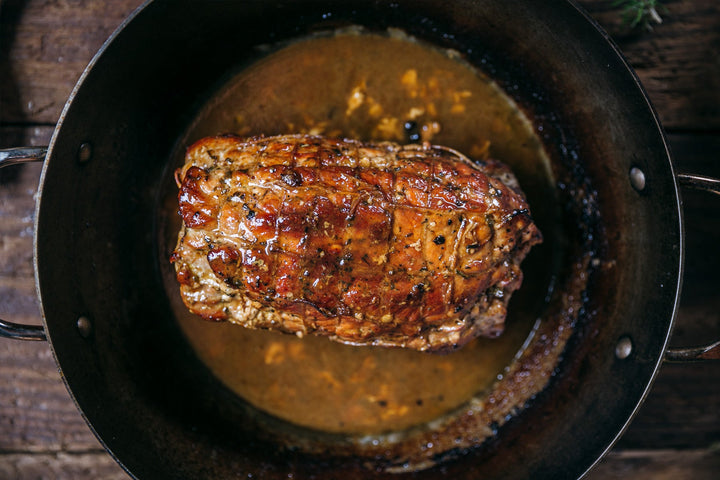 Arista Farcita
Recipe:
Stuffed Pork Roast or Arista Farcita is a delicious and perfect dish to serve for festivities or a Sunday lunch with family and friends. Simply use a sharp knife to open the pork as if opening a book and fill it with sausage, asparagus and Parmigiano cheese. Roll it, tie it, and place it in the oven for the magic to happen. 
Supplies:
Ingredients:
1.5 kilos pork roast
1 yellow onion
2 cloves garlic
420 grams Italian sausage without fennel seeds
1 bunch asparagus
1 sprig rosemary
8 sage leaves
Salt to taste
Pepper to taste
Shaved parmigiano to cover the surface of the meat
187 ml white wine
Directions:
Preheat the Marinara Pizza Oven to 400°F - 204°C
Sauté the onion and garlic in a pan.
Add the sausage and brown in the oven. Once browned, add a splash of white wine to the sausage and allow to cook out, and take the sausage out of the oven to cool.
Slice the pork roast into an "open book".
Salt it well, add pepper and minced rosemary and thyme.
Place the cooled sausage on the spread open pork.
Lay the asparagus across the meat.
Shave the Parmigiano Reggiano over the asparagus with the help of a vegetable peeler, enough to cover the asparagus. 
Roll the pork carefully and tightly like a cinnamon roll.
Once rolled, tie the pork up tightly, in order to hold everything together, as shown in the video. 
Salt all sides really well and add the leftover rosemary and thyme.
Drizzle some olive oil into the preheated pan and sear the meat on all sides in the oven.
Add the wine and allow to cook out. Once the wine is reduced, add the broth which has been previously preheated.  Cover the meat with a lid and place back into the oven.
Reduce the temperature of the oven to 375°F - 190°C, and allow the meat to cook for about 45 minutes.
After it has finished cooking, take the meat out of the oven and allow it to rest for about 10 minutes before slicing.
Serve along with some roasted potatoes, a side of vegetables or a salad.  Enjoy!  
Buon Appetito!
Subscribe to our YouTube channel for more videos! 
Follow us on Instagram and tag us with your culinary magic! We would love to see how you make this recipe!
@FontanaForniusa   #fontanaovens
@inside.our.kitchen   #insideourkitchen
---

40+ Years of Innovation | 100% Made in Italy
Built to Last | Superior Design & Construction