Tips for Making Delectable Deep-Dish Pizza at Home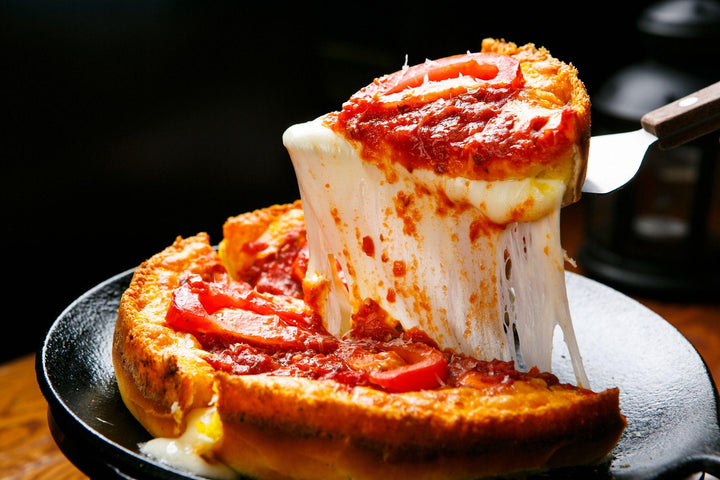 National Deep-Dish Pizza Day falls on April 5th, and what better way to celebrate it than by sharing our top tips on the best way to make this scrumptious meal in the comfort of your home?
Just like with regular pizza, you choose your favorite toppings and slap on as much sauce as you wish. But, there are several factors you must keep in mind and unwritten rules you must stick to so your deep-dish pizza comes out perfect every time.
Have we got you in the mood to make deep-dish pizza at home yet? Great, read on and get those pizza toppings ready!
What Is Deep-Dish Pizza?
Deep-dish pizza is made in a round, deep pan so that the crust can run up the sides and the toppings you choose fill up the crust. Typically, cheese is layered on as well, and fresh tomato sauce is used as the base.
Many people would describe deep-dish pizza more as a pizza pie than a traditional pizza. But it's a pizza, and it's delicious! And the best part is that you can make it in your backyard pizza oven whenever you want.
How Can You Make the Most Authentic Deep-Dish Pizza?
Here's how you can make your deep-dish pizza authentic and the best in your neighborhood:
Use a Cast-Iron Skillet
A cast-iron skillet is the best possible way to make deep-dish pizza. In fact, you shouldn't try to make this type of pizza with anything but a cast-iron skillet because it won't work out as well. With a cast-iron skill, the crust will be nice and thick and you'll have perfect pizza every time.
Get the Layering Right
The layering is very important, and it's also essential that you don't skimp on the amount of cheese you use. Also, choose only the best ingredients (this applies to all pizza, really).
Layer your cheese on top of the pizza crust and follow that with your sauce. Next, layer the toppings you want and add another layer of cheese.
Get the Dough Right
You want the best at-home deep-dish pizza, right? Then it's important that you get your dough right. The crust of deep-dish pizzas is different from other pizzas because there is more fat involved—it's important for the pizza crust's structure.
Take Your Time With the Sauce
The great thing about homemade deep-dish pizza is that you can take your time with the sauce you'll be using, and you should take your time for sure. Make it perfect. Of course, you can use store-bought sauce, but if you want an authentic deep-dish pizza, you should make your own.
Bake to Perfection
Finally, you have to bake the deep-dish pizza just right. It takes a bit of work but is totally worth it in the end. Because a deep-dish pizza is substantially thicker to, say, a Neopolitan pizza, expect this pizza to take longer to cook through—the last thing you want is a soggy, doughy bottom!
Crave Deep-Dish Pizza? Make It At Home!
Now that you know how to make deep dish pizza, it's time to prepare that dough and get your favorite toppings ready. Fontana Forni's range of outdoor pizza ovens is perfect for making delicious deep-dish (and any other type of) pizza. If you don't already have one, get one today!
---

40+ Years of Innovation | 100% Made in Italy
Built to Last | Superior Design & Construction