How to Make Heart-Shaped Pizza This Valentine's Day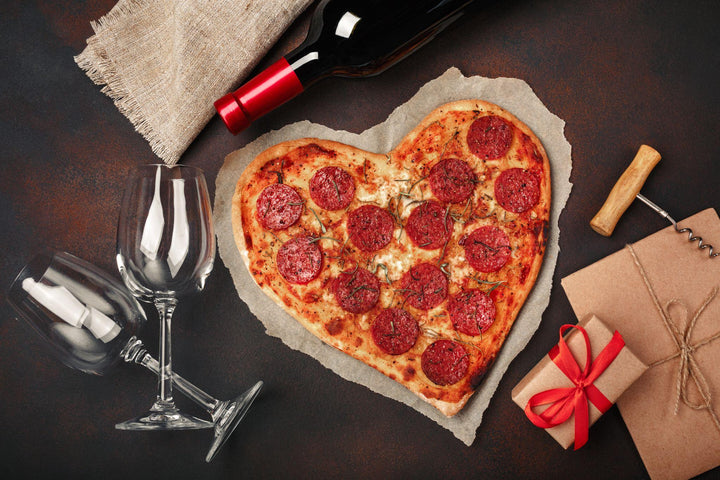 Valentine's Day is around the corner, and what better way to show that someone special in your life how you feel than with a delicious pizza baked in your wood-fired pizza oven? Sure, strawberries and cream are seen as the food of love, but pizza can be just as good, if not better! Put a special spin on your favorite meal by making a heart-shaped pizza for your Valentine. It's much easier than you think! You might even love it so much that you whip up heart-shaped pizzas all the time.
We'll first discuss how to make a Valentine's heart-shaped pizza and then look at what kind of toppings will work best with the theme of love here.
Step One
Prepare your dough and shape it into a ball. About a tennis ball size should be enough for one big heart pizza.
Step Two
Flatten out the dough into a round shape like you would do when making a standard pizza. (You can grab and stretch the ball with your hands and use your fingers to shape the heart. If the dough doesn't keep its shape, let it rest for five minutes and try again.)
Step Three
You'll have to use a cheeky 'pinch-and-pull' technique here. Pinch the bottom of your dough and pull it down into a point. Your pizza should now be in a teardrop shape.
Step Four
Now, use one finger and push down the top of the dough toward the center. You will have to use your hands to adjust the shape here and there. 
Step Five
Once you're satisfied with the shape of your Valentine's Day pizza, you can use more dough and roll it into a long line shape. Use that to make a line around the heart shape. This will make it look a bit more defined. If you want, stuff that line of dough you've placed with cheese.
Step Six
Blind bake your pizza for roughly 10 minutes to help ensure it will be sturdy enough to handle all the toppings you want.
Step Seven
Spread your favorite pizza sauce on the pizza, and now you can add your yummy toppings. Once that is done, bake your pizza again—this time for about 10 minutes.
Heart-Shaped Pizza Topping Ideas
A Valentine's heart-shaped pizza can't be complete without toppings that are also heart-shaped or at least red. With a yummy layer of cheese evenly sprinkled across your pizza, here are a few ideas you can use to keep with the Valentine's Day theme:
Pepperoni
As a favorite topping everywhere, you really can't go wrong with pepperoni slices. Cut your slices in half with a pair of kitchen scissors. To do so easily, fold the slice in half and then trim the edges into the shape of half a heart. When unfolded, you'll have lovely pepperoni hearts!
Red Onion
Cut a red onion into slices and arrange them on your Valentine's Day pizza along with the pepperoni.
Red Bell Pepper
Same as with the red onion, slice your red bell pepper and arrange it on your pizza as you like.
That's it! A heart-shaped pizza for the person who makes your heart beat faster. Impress them this year with an authentic and special homemade pizza that you prepared in your awesome wood-fired pizza oven from Fontana Forni. We specialize in making the best pizza ovens, so you'll be able to rest assured you'll have a delicious Valentine's Day pizza baked to perfection.
Here's to love and great pizza!
---

40+ Years of Innovation | 100% Made in Italy
Built to Last | Superior Design & Construction