Trending: The Tinned Fish Obsession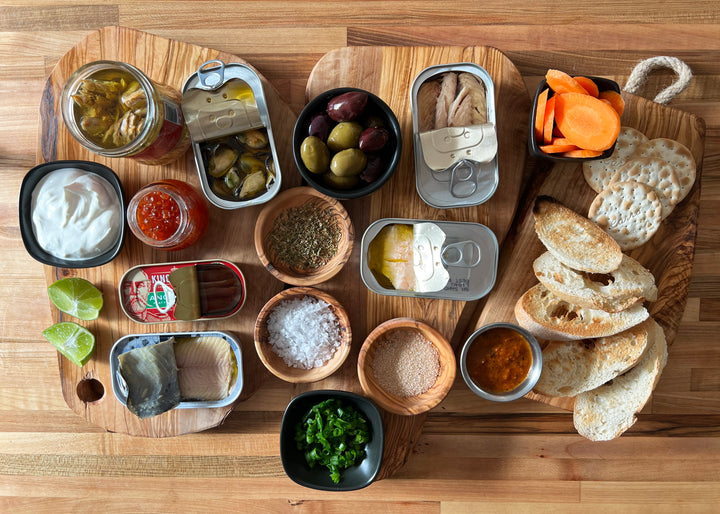 Tinned fish and seafood has always been a common snack staple in Spain and Portugal but it's now being rediscovered by the masses thanks to TikTok accounts and videos that are going viral. What many saw as "down market" proteins are elevated to gourmet levels. Caviar and other types of roe are the height of luxe but everything from oysters to mackerel are experiencing a Renaissance. And they're being served on not only fancy gourmet crackers but basic potato chips, seaweed, crudités and more.
We're currently obsessed with San Francisco-based Ali Hooke's "Tinned Fished Date Night" series where she and her husband try different assortments of oceanic proteins, various toppings, and serving vessels. It's an adventurous alternative to the same old charcuterie board.
Check out our own taste test with in-house expert on all things Fontana, Philip who shares how to create crispy crostini in our ovens to pair with your tinned goods. Bonus: he previously did an Instagram LIVE event walking you through the step-by-step process to flawless crostini. See the videos here for the full scoop. He also reviewed a few of his local grocery store offerings and the best way to serve them. Bonus: his daughter weighs-in on her faves. Yes, kids are jumping on the bandwagon too! Farewell picky-eaters, hello adventurous palettes!
Buon Appetito!
Subscribe to our YouTube channel for more videos! 
Follow us on Instagram and tag us with your culinary magic! We would love to see how you make this recipe!
---

40+ Years of Innovation | 100% Made in Italy
Built to Last | Superior Design & Construction