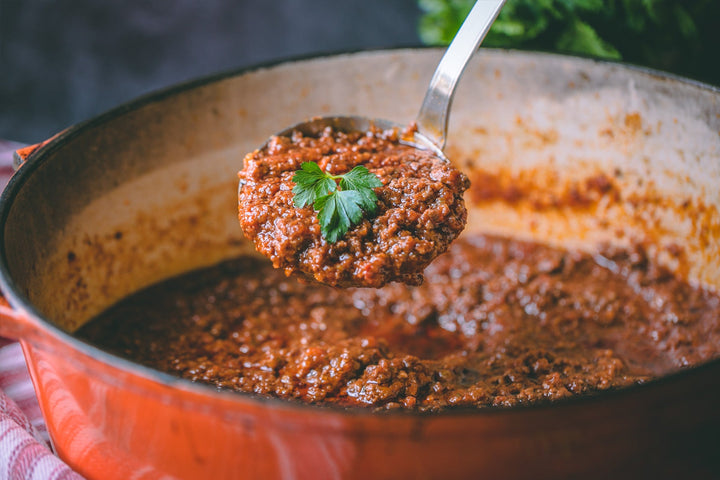 Sugo di carne - Ragù 
Sugo, Sugo di carne or Ragù are just a few names for what is essentially a delicious meat sauce used for a number of delicious dishes. There are many ways of preparing it and just as many versions of it from Italian region to region or kitchen to kitchen. Here is how we make it in Tuscany. 
Recipe:
Ingredients:
600 gr. ground beef
300 gr. ground pork or Italian / sausage
350 ml. red wine
1 med to large red onion minced
1 small brown onion minced
350 ml. water or bone broth
2 carrots minced
2 celery sticks minced
1/2 bunch flat leaf Italian parsley about 35 grams
2 cloves garlic minced
1 Tablespoon tomato paste
1 1/2 Roma San Marzano tomatoes crushed
salt to taste
black pepper or cayenne pepper flakes
olive oil
Directions:
Mince all vegetables - ODORI
Preheat pan and drizzle olive oil into the bottom of the pan
Place the  minced vegetables BATTUTO into the pan and allow them to sauté until onions are translucent and all vegetables are soft and very lightly browned. This will take about 10 minutes on medium heat as you frequently stir. 
Add pork and beef. Continue to stir frequently as you break up the meat.  You want to allow the meat to brown and stick to the bottom making sure it does not burn. With the help of a wooden spoon continue to scrape the bottom of the pan. This slow browning - about 20- 25 minutes, is what will give your Sugo a most amazing flavor. 
Salt and pepper the meat.
Pour the wine over the meat and allow it to SFUMARE, cook out and evaporate.
Once the pan is once again dry from the wine you can now add the tomatoes and tomato paste.
Pour water or bone broth to the sugo and allow it to simmer 3-4 hours with the lid just slightly uncovered. If the sauce dries up too much during this time, you can add a bit more water.
Italian culinary secret:
As a kid I used to love to go to the Mercato delle Cure with my mom. This was the open market just walking distance from our apartment.
There we would pace ourselves from stand to stand and see what the vendors had brought from the farms surrounding the city of Florence.
Of course exposed were only seasonal vegetables.  Seasonal fruits, mushrooms, herbs and even flowers. We always looked not only at the great selection each vendor exposed but of course at the prices.
There was one man with a beautiful face marked with deep ridges etched by his age and also exposure to the sun due to his work in the fields. He had the deepest blue eyes and a special affection for my mom. With a sign of his hand he would get mom's attention when he had some special deal. She was so gifted at bringing home things that others might have overlooked because of blemishes or slight wilting. Mom always knew and still knows how to make something delicious out of what was available. 
No matter what was purchased at the mercato you could always here the merchant ask: "Odori? Servono gli odori?" He would then grab a carrot, celery stalk, an onion and some parsley and put it in a bag. Often those items were at no charge. You see, the odori in Tuscan cooking are a staple for many dishes. Meat sauces, stews, risotto, soups and so much more.
Let me explain. What are ODORI, BATTUTO, and SOFFRITTO? 
ODORI usually consist of a carrot, celery, onion and some parsley and at times even some garlic. These are a must in the preparation of many Italian dishes. Literally translated Odori means "smells", and of course in this case good smells. When added to a broth or minced and sautéed in a pan they fill the entire kitchen with their delicious aroma.
What about BATTUTO?  You prepare a battuto by mincing the ODORI - carrots, celery, onion, garlic and parsley.
Lastly what about SOFFRITTO? Soffritto is when you take all these minced vegetables, and you sauté them in olive oil to create an amazing and flavorful foundation for so many dishes. 
Well here it is! A little introduction to the simple secrets of Italian cuisine.
Follow us on Instagram @FontanaForniusa and tag us with #fontanaovens when you make this recipe! We would love to see your culinary magic! 
---

40+ Years of Innovation | 100% Made in Italy
Built to Last | Superior Design & Construction