Savory Ham & Chive Puff Pastry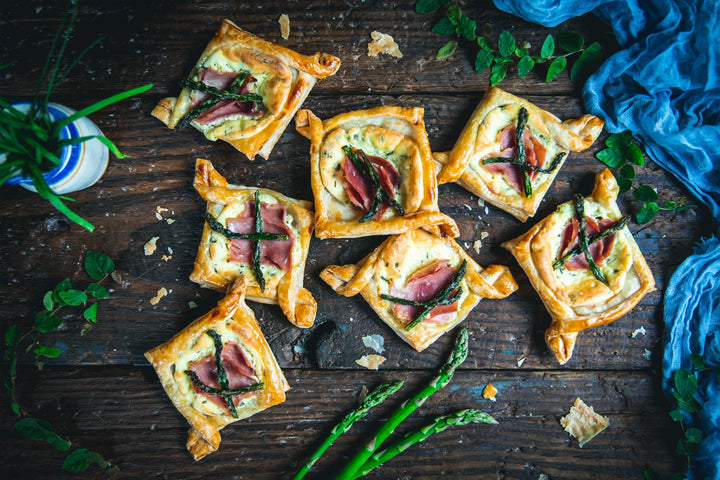 Savory Ham & Chive Puff Pastry 
Recipe:
What better way to make a breakfast, brunch or even an appetizer when serving these flaky, savory cream cheese and ham pastries.  These morsels of goodness come together in no time at all and are always a welcome surprise when served straight from the oven.  Let's get started!
Supplies:
 Ingredients: 
1 box (450 grams) puff pastry 
226 grams or (8 oz) cream cheese
1 egg yolk
1 tablespoon chives
150 grams ham 
1 garlic clove
3 asparagus heads per pastry 
A touch of butter
Drizzle of olive oil
Egg wash (1 egg yolk, pinch of salt and 2 teaspoons heavy cream)  
Directions:  
Preheat the Gusto Wood Oven

 

to 400°F - 204°C.
Sauté the asparagus heads in a small frying pan along with the minced garlic, butter and olive oil.  Set aside.
Whip the cream cheese and egg yolk in a mixer until it is airy.  Incorporate the chives into the cream cheese.  
Cut the ham to fit on the pastries.   
Begin assembling the puff pastry squares and fold each pastry square in half to form triangles.  Leaving a small border of about ½ centimeter, begin cutting at the bottom of the folded edge all the way to almost the tip of the triangle.  Do the same on the other side making sure the cuts don't touch.  Unfold the square and fold the corner of the loose ½ centimeter frame to the opposite side of the square.  Do the same with the second ½ centimeter loose frame to the opposite corner of the pastry.  (Follow along with the video)  
Place a dollop of the cream cheese mixture on the bottom of each pastry.  Arrange a a slice of ham over the top as well as 2-3 asparagus heads.
Transfer the pastries on a baking sheet covered with parchment paper and gently brush the edges with the egg wash.  
Slide the pan into the preheated oven (400°F - 204°C) for about 20-30 minutes or until the pastries are a nice golden brown.  Remove from the oven and serve immediately!     
Buon Appetito!
Subscribe to our YouTube channel for more videos! 
@FontanaForniusa   #fontanaovens
---

40+ Years of Innovation | 100% Made in Italy
Built to Last | Superior Design & Construction