Roasted, Blackened Bell Peppers in the wood-fired oven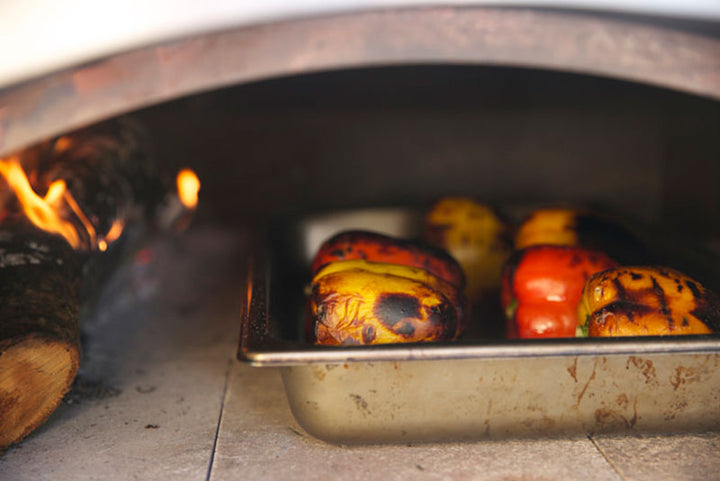 Today we will prepare roasted, blackened peppers.
There are several different methods to roast bell peppers, but the wood-fired oven will be the method we use today.
The process is simple, the result is delicious, the possibilities for creating varied dishes with this amazing pepper are countless. When bell peppers are in season choose brightly colored, firm red peppers with a tight skin. Today we also used yellow and orange peppers. Place the peppers in a pan after thoroughly washing and drying them.
Ingredients:
bell peppers - red, orange and yellow
What is needed:
oven safe pan
a bowl
paper bag
Directions:
Prepare the wood-fired oven and heat it to about 450° to 500°F. It is easy to check the temperature of the oven with an infrared thermometer. Set the bell peppers in an upright position and place them inside the oven.
Make sure to have an active fire before placing the peppers into the wood-fired oven.
Keep an eye on the peppers as they will blacken quickly.
As soon as the peppers reach a charred appearance, they are ready to be rotated.
Once nicely blackened on top, carefully pull the pan out of the wood-fired oven.
It is time to rotate the peppers by placing them on their side, in order to blacken them uniformally.
Once all peppers have been roasted on all sides you can pull them out of the oven. Do not worry about their blackened appearance as it is only the outer skin of the pepper that is charred.
Quickly place the peppers into a paper bag and close it by rolling the opening on itself.
This is how the peppers will look after being steamed in the paper bag. They are now ready to be peeled.
The paper bag did the job. The peppers have been well steamed and allowed to sweat, thus allowing the skin to peel off very easily.
Peel each pepper making sure to reserve the juice into the bowl.
Remove the stem from the top of the pepper. The seeds are now easily removed.
After removing all seeds, the job is done and the peppers are ready to be put to good use.
Roasted red peppers are now ready to be used and incorporated into a variety of different dishes. More recipes incorporating these roasted peppers will be explained in further posts.
How would you use your roasted, blackened bell peppers?
Follow us on Instagram and tag #fontanaforniusa with an image of your roasted, blackened bell peppers made with this recipe.
---

40+ Years of Innovation | 100% Made in Italy
Built to Last | Superior Design & Construction