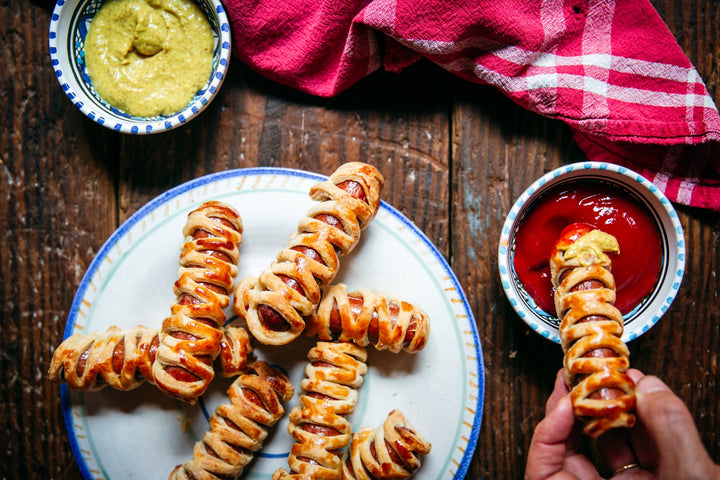 Pigs in a Blanket 
Recipe:
A backyard party without a platter full of pigs in a blanket just doesn't seem complete.  As the wood-fired oven is preheating to 400°F, wrap each hotdog with a blanket of fancy puff-pastry, brush lightly with egg-wash, and pop them in the oven.  The result will be a pan full of flaky, elegant and delicious morsels of goodness.  Let's get started!  
Supplies:
 Ingredients: 
1 pack of 8 hot dogs 
1 sheet of puff pastry (enough for 8 hot dogs) 
1 egg
Splash of cream 
Pinch of salt 
Directions:  
Preheat The Marinara Pizza Oven to 400°F - 200°C.  If the oven is up to temperature only hot coals are necessary to bake.  Large flames would risk to burn the pigs in a blanket. 
Place the thawed puff pastry on a floured work surface.  Roll the dough lattice roller over the puff pastry making sure to press down all the way.  
Wrap the puff pastry around the hotdog, and trim any excess dough.  
Place the wrapped hotdogs on the baking tray lined with parchment paper making sure that the sealed edge is facing down.
Put the tray in the freezer for about 10 minutes.
Whisk together the egg yolk, cream and pinch of salt.  
Remove the tray from the freezer and gently brush the dough with egg wash.  Brushing with egg wash is optional.
Place the tray into the oven and bake for 15 minutes or until the pigs in a blanket are golden brown.  
Remove from the oven and serve immediately with ketchup and mustard.  Enjoy! 
Buon Appetito!
Check out our YouTube channel for more videos! 
---

40+ Years of Innovation | 100% Made in Italy
Built to Last | Superior Design & Construction