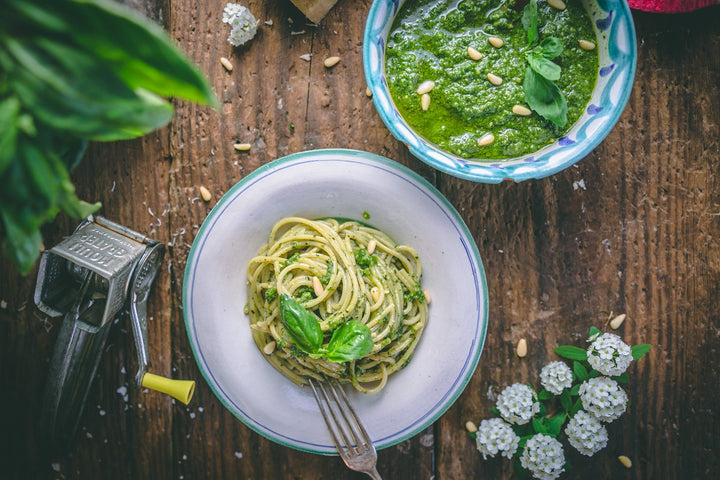 Pesto alla Genovese
Pesto alla Genovese is always a welcomed and timeless dish, perfect for so many occasions. In no time at all, a healthy and delicious plate of pasta can be served for those sitting around your kitchen table. The aroma of the fresh basil permeates the kitchen as you prepare this iconic Italian dish. Summer is of course the prime time to prepare this classic Italian PRIMO. It is during these warm months when basil is plentiful and full of an inebriating aroma.  
Traditionally Pesto alla Genovese is made with a "mortaio e pestello" a mortar and pestle which is made of white marble. Fresh basil leaves, pine nuts, and garlic are crushed into a cream inside this traditional mortar and pestle. The addition of Grana or Parmigiano Reggiano and a generous amount of good virgin olive oil culminates the green sauce into a luscious cream ready to be used. The purists would certainly insist for Pesto to only be made in this manner, but for sake of time and ease, it can also be made in a food processor.
 Let's get started.
Recipe:
Supplies:
Infrared thermometer
Oven safe pan
Food processor
Ingredients:
100 grams fresh basil leaves
2 cloves garlic
80 grams pine nuts
95 grams Parmigiano Reggiano
25 grams pecorino romano
170 grams olive oil
coarse sea salt to taste
 Directions:
Preheat oven to 350°F
Spread pine nuts out on a baking sheet and lightly toast them in the oven, being sure they do not turn brown. Take them out of the oven and allow them to cool.
If you choose to use a food processor, place the blade in the container and fill it with ice in order to get both very cold. Doing this will keep the basil from oxidizing as much. When you are ready to begin making the pesto, take the ice out of the container.
Place the garlic and the coarse sea salt into the food processor or inside the mortar and pestle. Pulsate until garlic is creamed.
Add the basil leaves and continue pulsating as shown in the video.
Once the basil is chopped up, add the pine nuts. Pulsate.
When you notice a creamy mixture, blend in the cheese to bring everything together. Pulsate a few more times as you drizzle the olive oil to the creamed mixture.
Add salt to taste.
Bring water to a boil and add salt. Add the spaghetti and cook "al dente".
Drain the spaghetti and place into a large serving bowl over the pesto. Make sure to reserve some of the cooking water.
Mix the spaghetti with the pesto and add a little cooking water to make it extra creamy. Dust fresh Parmigiano Reggiano over the pasta. 
Serve immediately and enjoy!  
Buon Appetito!
Subscribe to our YouTube channel for more videos! 
Follow us on Instagram and tag us with your culinary magic!
@FontanaForniusa   #fontanaovens
​​
---

40+ Years of Innovation | 100% Made in Italy
Built to Last | Superior Design & Construction