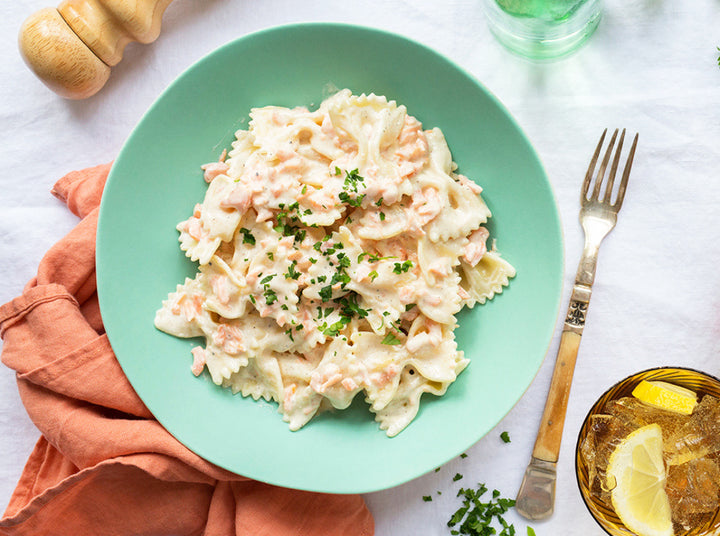 While salmon isn't indigenous to the Mediterranean Sea, leave it to the Italians to deliciously combine this popular flavor-packed (and healthy!) fish with all the comforts of a creamy pasta. Our in-house expert Philip shares his family's version which they typically shared during the Christmas holidays (Feast of the Seven Fishes, anyone?) but is an easy, rich meal that will help usher you from winter's freezing temps and into the beginning of spring next month. It's the perfect hybrid of cozy carbs mixed with the fresh oceanic and herby brightness of the coming season.
Prep-Time: 5 mins.
Cook Time: 5 to 10 mins.
Serves: 4-5
Difficulty: Low
Supplies:
Large pot
Large cooking pan
Stirring spoon / spatula
Ingredients:
170 g of smoked salmon (approx. 2 packets)

400 ml heavy cream

454 g bowtie pasta (approx. 1 box)

Fresh parsley (diced for garnish, add or substitute other herbs if needed)

15 g salted butter

Salt to taste and for pasta water
Directions:
1.) Preheat oven to approximately 400°F.
2.) Fill a pot of water with tap water and salt—should be the saltiness of a soup, don't be afraid to add a nice amount. Begin boiling water on stovetop.
3.) Slice smoked salmon into small cubes.
4.) Pre-heat pan in oven to 300°F and remove. 
5.) Place butter into pan and allow to melt and evenly coat the pan.
6.) Before the butter browns, place the salmon pieces into pan. Evenly coat salmon in butter and place pan back into oven. 
7.) Stirring often, allow the mixture to warm and slightly brown.
8.) Remove from oven and slowly add heavy cream starting from the outsides of the pan and moving to the center. Mix well and then place back into oven. 
9.) At this point, you need to be careful not to overcook and curdle the heavy cream.  Remove often and stir making sure to also scrape the bottom of the pan. Once thickened to desired thickness remove and prepare for pasta. 
10.) The pasta will take approximately 7-10 minutes (depending on type and doneness) to cook, so plan accordingly. Cook the pasta until it is "al dente" which means just past crunchy but before it gets soft.
11.) As soon as the pasta is finished, drain while keeping a little bit of the water in a separate container in case you need it should your dish starts to become too dry.
12.) Place into the sauce and mix well. The sauce should still be quite hot, so it will continue to "cook" the pasta so don't let it sit.  
13.) Plate and top with a small amount of parsley garnish. Serve immediately.

Buon Appetito!
Subscribe to our YouTube channel for more videos! 
Follow us on Instagram and tag us with your culinary magic! We would love to see how you make this recipe!
---

40+ Years of Innovation | 100% Made in Italy
Built to Last | Superior Design & Construction