Orecchiette with Cherry Tomatoes and Ricotta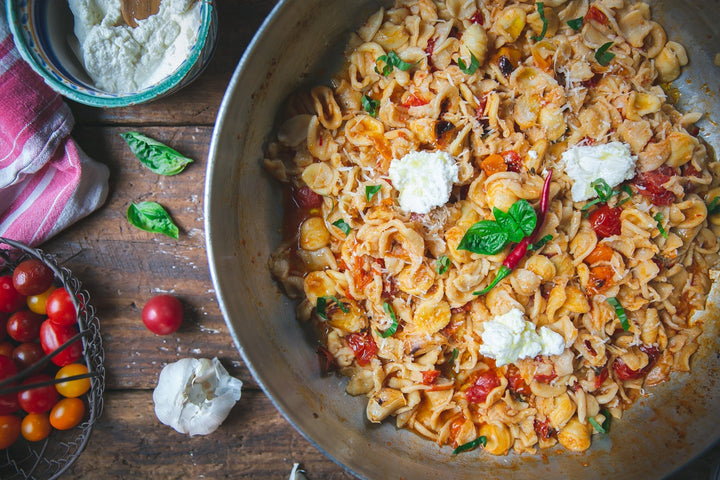 Orecchiette with Cherry Tomatoes
Recipe:
Orecchiette with roasted cherry tomatoes and dollops of fresh ricotta are a delicious and easy vegetarian primo quickly prepared in no time at all.  This Italian dish, typical to the region of Puglia, is known to be made by grandmas, aunts and women of all ages sitting around the kitchen table shaping one by one these iconic orecchiette - little ears, from a simple pasta di semola. How wonderful to celebrate family and be able to enjoy a deep sense of community when women and children gather together to do life as they prepare delicious comfort food for their loved ones.  Not only does it feed the belly but most importantly it feeds the soul to sit together, listen to each other, laugh and share life while passing the tradition on to the next generation. 
Supplies:
Ingredients:
Orecchiette pasta
600 grams or 2 1/2 dry pints Cherry tomatoes 
1 head garlic "Aglio in Camicia" - whole garlic cloves with the skin on
10 basil leaves
230 grams Ricotta 
50 grams Parmigiano Reggiano 
Extra Virgin Olive Oil
Salt to taste
Fresh cayenne sliced to taste (optional)
Directions:
Preheat the Gas Oven to 450°F - 232°C.  
Place the whole cherry tomatoes on a baking sheet.
Add the "aglio in camicia" whole garlic cloves with the skin on, a generous sprinkling of salt and some cayenne pepper. 
Drizzle everything with olive oil and toss, making sure the tomatoes and garlic are evenly distributed on the pan.  
Place in the oven to roast for about 15 minutes or until caramelized.  Halfway through roasting, add the basil leaves.  Gently stir the tomatoes. It may be necessary to rotate the pan.  Place back in the oven.
Bring a pot of water to a boil for the orecchiette.  Add the salt. Transfer the orecchiette into the boiling water and stir making sure they do not stick. If fresh orecchiette are being used, boil them for 5-7 minutes.  For dried orecchiette, boil them for about about 12 minutes or until "al dente", or "to the tooth". 
Once the tomatoes are caramelized, remove the pan or skillet from the oven and set aside. 
When the orecchiette are "al dente", remove them with a handheld strainer, making sure to reserve the cooking water.  
Place the orecchiette directly into the skillet with the tomatoes and gently combine all ingredients.  Add a ladle of cooking water and allow all ingredients to marry on the stove or in the oven while gently stirring all ingredients.  
Top with ribbons of fresh basil leaves, a good drizzle of olive oil and Parmesan cheese.
Serve after plating a portion on a plate, adding dollops of fresh ricotta, shaved or grated Parmigiano, additional fresh basil ribbons and a good drizzle of olive oil.  It is ready to serve.  Enjoy!
Buon Appetito!
Subscribe to our YouTube channel for more videos! 
Follow us on Instagram and tag us with your culinary magic! We would love to see how you make this recipe!
---

40+ Years of Innovation | 100% Made in Italy
Built to Last | Superior Design & Construction