How Long Does It Take to Preheat a Home Pizza Oven?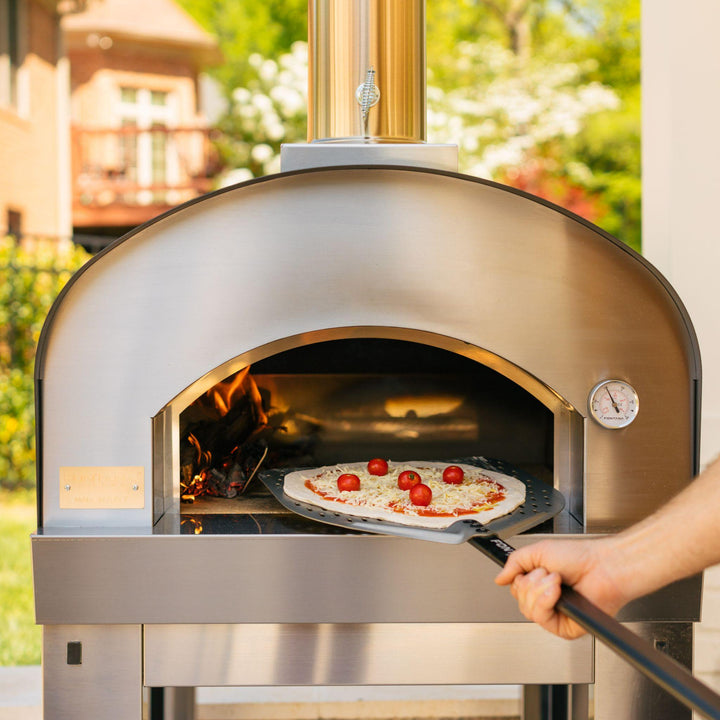 Preheating a home pizza oven is essential to making great-tasting pizza, whether you have a wood-fire or gas pizza oven. It does take some practice to learn how to get your pizza oven to the right temperature and maintain it once it preheats.
Why Your Pizza Oven Needs to Be Hot
If your oven is not hot enough, your pizza will not bake correctly. The correct temperature ensures:
Restaurant-Quality Pizzas

Cheese Melted to Perfection

The Perfect Pizza Crust

No Undercooked, Raw Pizzas

No Cool Spots on the Pizza Stone
Controlling Oven Temperatures
It is critical to control oven temperature for consistent results no matter how many pizzas you intend to make. If the oven is not at its optimal temperature, the bottom crust will not bake, and the top will burn.
How long does it take to preheat an oven for pizza?
Wood-fire pizza ovens can take about 20 minutes to preheat to the ideal temperature. Gas pizza ovens will preheat much faster and usually take about 10 minutes.
Why is there an optimal preheating temperature?
The optimal temperature is designed to deliver restaurant-quality results. For our wood-fire and gas pizza ovens with the standard pizza stone, the perfect temperature is 750 degrees Fahrenheit. For our wood-fire and gas pizza ovens with the Saputo stone, 850 degrees Fahrenheit is the ideal oven temperature for Neapolitan-style pizzas.
Why should you never cook above the ideal oven temperatures?
Operating your pizza oven above the ideal temperatures can damage your pizza oven and cause pizzas not to bake correctly, and you could burn yourself. Additionally, certain models have electronic circuitry and lighting that could melt. Therefore, we highly recommend you review your owner's manual to determine your pizza oven model's maximum safe operating temperature.
How can I regulate the pizza oven's temperature?
On wood-fire pizza ovens, it is easy to regulate the temperature by adjusting the damper and adding more wood every 20 minutes. On gas pizza ovens, you adjust the temperature by turning the gas up or down and by adjusting the damper.
A partially closed damper helps maintain consistent temperatures while opening the damper will lower temperatures. Since our wood-fire and gas pizza ovens offer maximum heat retention, it is not difficult to maintain precise temperature control once you become more comfortable using your outdoor pizza oven.
Advantages of Preheating an Outdoor Pizza Oven
Outdoor pizza ovens operate at much higher temperatures than conventional ovens. The primary benefit is to provide a much faster baking time. For example, you can bake pizzas in about one or two minutes, depending on the size and number of toppings.
Why Choose Fontana Forni for Your Outdoor Pizza Oven
Our outdoor pizza ovens offer the highest home cooking temperatures on the market. Each of our ovens is handcrafted using a blend of traditional processes with superior pizza cooking efficiency, including:
Heavy-Duty Construction

High-Quality Materials

Innovative Designs

Maximum Insulation

Handcrafted Tradition and Excellence

100% Made in Italy by Skilled Artisans

Unparalleled Performance and Options

Precise Temperature Control
For more information on preheating wood-fire Fontana Forni pizza ovens, check out our "How To" video or please feel free to contact us directly at 877-842-9822 for further assistance or to order your outdoor pizza oven today.
---

40+ Years of Innovation | 100% Made in Italy
Built to Last | Superior Design & Construction