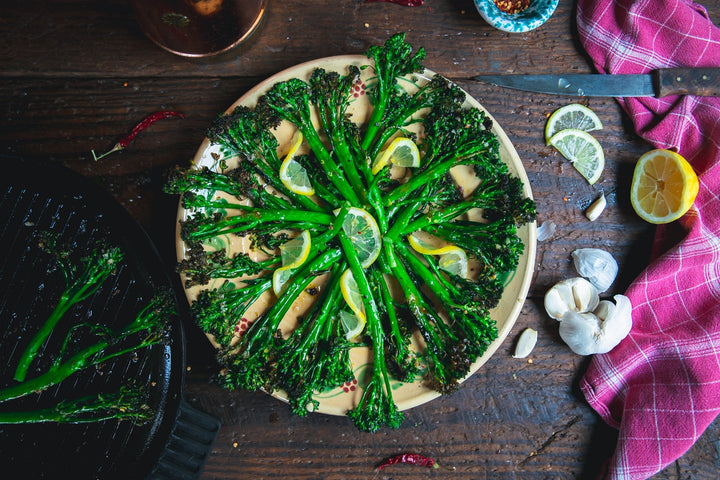 Roasted Broccolini 
Recipe:
Roasted broccolini are one of the most simple yet flavorful side-dishes.  For certain you will want to make them over and over again all summer long.  Broccolini are a cross between traditional broccoli and Chinese broccoli, and are not to be mistaken for broccoli rabe.  Broccolini are tender, but also perfectly caramelized with crispy florets when roasted in the oven.  Broccolini are a perfect accompaniment to fish, roasted meats, mixed in a plate of pasta, or just simply placed on a crunchy peace of bread.  As all fresh, seasonal produce, broccolini are delicious when prepared with simplicity and fresh, genuine ingredients. Let's get started! 
Supplies:
 Ingredients: 
400 grams broccolini - not to be confused with broccoli rabe
2-3 garlic cloves 
Cayenne pepper flakes to taste
Juice of 1/2 lemon
Zest of one lemon 
130 grams Olive oil - about 1 cup
Salt to taste
Directions:  
Preheat The Home Gas Pizza Oven to 375°- 400°F - 190°- 200°C and place the cast iron grill pan in the oven as well.  
Mince the garlic first, then sprinkle with salt which will act as an abrasive.  To transform the garlic into a paste, simply hold the knife at an angle and drag the blade over the garlic and salt by pushing down.  Keep doing this until the garlic becomes a paste and looks shiny as the oils are released. 
Whisk together the garlic paste, olive oil, lemon juice, lemon zest and cayenne pepper flakes.  
Remove the preheated skillet from the oven and arrange the broccolini over the top without crowding.
Brush the broccolini with the garlic and lemon flavored oil. 
Place the skillet back into the oven for about 8-10 minutes, or until the broccolini stems are somewhat tender, slightly charred and perfectly caramelized on the florets.
Remove from the oven and drizzle an additional bit of the olive oil mixture over the top, as well as a squirt of fresh lemon juice.  Roasted broccolini are a perfect side dish for any meal and a great accompaniment with meat, fish, and delicious when simply placed on a crunchy slice of bread, or tossed and served with pasta.  Enjoy! 
Buon Appetito!
Subscribe to our YouTube channel for more videos! 
---

40+ Years of Innovation | 100% Made in Italy
Built to Last | Superior Design & Construction