Fresh Cranberry Sauce for Thanksgiving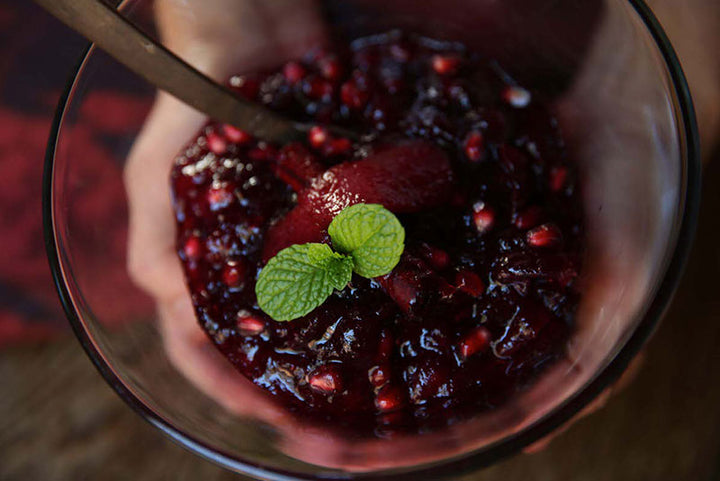 Prep work:
Preheat the Pizza e cucina wood-fired oven. The cooking will be done on the cast-iron stove top.
Ingredients:
2/3 cup sugar
1 stick cinnamon
3/4 cup dry red wine
1 12 oz package fresh cranberries
1/4 cup orange juice
3 long strips of orange zest
pomegranate seeds to garnish
mint leaf to garnish
Thoroughly wash all cranberries under running water.
Place the cranberries in a bowl with water and make sure to remove blemished berries.
Pour 2/3 cup sugar into a pan.
Add 3/4 cup dry, red wine to the sugar.
Place a cinnamon stick with the wine and sugar.
Peel a few slivers of zest of an orange making sure to avoid the white part of the rind.
 Add 3 orange slivers to the pan.
 Squeeze the orange until you get about 1/4th cup of juice.
Add the orange juice to the wine mixture.
 Place the pan on the stove top of the Fontana Forni Wood Fired Pizza Oven
Allow the mixture to gently simmer for about 4 minutes, or until the sugar has completely dissolved and the wine has reduced.  
It is time to add the fresh cranberries to the liquid.
Bring all ingredients to a boil and allow them to simmer for about 10 minutes.
This is how the sauce will look after about 10 minutes.
When the sauce has thickened and the cranberries are soft you are almost ready to serve.
For presentation, texture and flavor you can add some fresh pomegranate seeds at the very end.
Place the sauce in your favorite dish and serve it either warm or chilled.
So simple and so delicious! Enjoy!
What are your favorite dishes for Thanksgiving and the Holidays?
Follow us on Instagram, Pinterest, Facebook and Twitter . Tag #fontanaforniusa with an image of your creation made with this recipe.
---

40+ Years of Innovation | 100% Made in Italy
Built to Last | Superior Design & Construction