Fig and Goat Cheese Crostini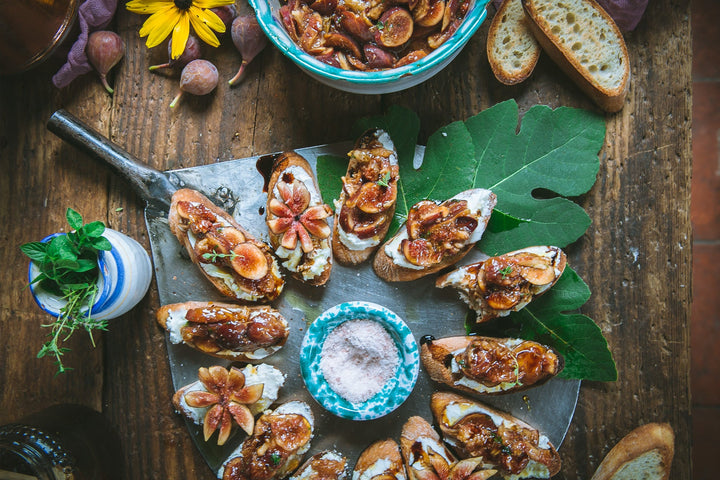 Fig and Goat Cheese Crostini
Recipe:
Fig and Goat Cheese Crostini are definitely a delicious appetizer or snack perfect to serve at any occasion. Summer is such a rich season for a large variety of fruits, and an ideal time to pick fresh figs from our tree. Sadly these sweet, plump and honey like morsels seem to ripen all at once.  Inevitably it spurs you on to be creative and put them to good use in different recipes. Here is just one way to prepare and serve the amazing creation, the FIG. Let's get started. 
Supplies:
Ingredients:
350 grams fresh figs
226 gr - 8 oz grams goat cheese
1 baguette
2 tbsp / 30 grams balsamic vinegar
1 tbsp honey
1 tsp olive oil
Salt to taste
Honey, olive oil, and balsamic to drizzle on top
1-2 sprigs of thyme
Directions
Preheat the Mangiafuoco Gas Oven to 400°F - 204°C
Cut baguette into diagonal slices and set on a baking sheet.
Slice figs into thin slices and place into a bowl.
Finely chop the thyme and sprinkle over the figs.
Drizzle in the balsamic vinegar, a bit of olive oil and honey, and gently mix everything together being careful not to mash the slices. 
Place the slices of baguette into the oven and toast on both sides.
Spread the goat cheese on each slice and spoon some of the figs on top of each piece of bread.
Drizzle lightly with olive oil, honey, balsamic vinegar, and sprinkle with some salt.
For a more elegant look cut deep slits into some of the figs making sure not to cut all the way through. Do this to create 8 small fig "petals" and place these on some of the slices of bread with goat cheese. Drizzle olive oil, honey, and balsamic vinegar over these as well and lightly sprinkle some salt.
To garnish place a small piece of thyme over each. Enjoy!
Buon Appetito!   
Subscribe to our YouTube channel for more videos! 
Follow us on Instagram and tag us with your culinary magic! We would love to see how you make this recipe!
---

40+ Years of Innovation | 100% Made in Italy
Built to Last | Superior Design & Construction