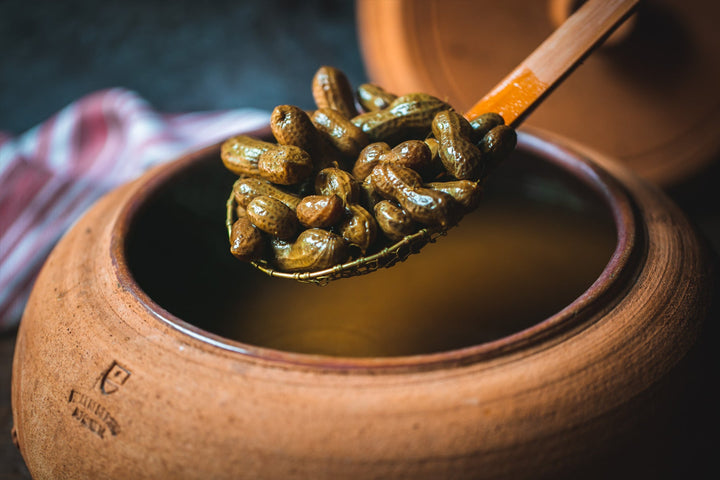 Spicy Boiled Peanuts 
Recipe:
Spicy Boiled Peanuts are a must when one finds a stand at the market with perfectly fresh, green peanuts.  We simply placed them in a terra-cotta pot, seasoned them with Cajun spices, added some heat from cayenne peppers, and sea salt.  After several hours of gentle simmering inside the wood-fired oven, the most delicious, soft and flavorful boiled peanuts were ready to be enjoyed by the entire family.  Let's get started! 
Supplies:
Pot with lid - we cooked ours in a terra-cotta pot used normally to make Peposo (stainless steel pot, or crock pot) 
Ingredients: 
800 grams raw peanuts 
35 grams cajun seasoning
12 grams garlic powder
5 grams mustard powder
3-4 cayenne peppers (optional)
75 grams sea salt
3.7 liters boiling water - add more boiling water when necessary
Directions:  
Preheat The Marinara Pizza Oven

 

to 375°F - 190°C.
Thoroughly wash the peanuts, until any possible soil is rinsed away.  After all, they were just pulled out from the ground.  This is a perfect time to sift through them and remove any blemished peanuts out.
Place the peanuts in a large pot.  We used a terra-cotta pot traditionally used for the Renaissance dish called Peposo. 
Add the Cajun seasoning, garlic powder, mustard powder, cayenne peppers and salt.  Mix everything together.  
Pour hot water into the pot, and give the peanuts a good stir.  Make sure it is enough water to cover the peanuts.  
Cover the pot with a lid and place in the oven to slowly simmer for about 5 hours.  Make sure to add hot water whenever needed.  
 Once the peanuts are mostly under water and soft, remove from the oven and serve either hot or cold.  Enjoy! 
Buon Appetito!
Check out our YouTube channel for more videos! 
@FontanaForniusa   #fontanaovens
---

40+ Years of Innovation | 100% Made in Italy
Built to Last | Superior Design & Construction