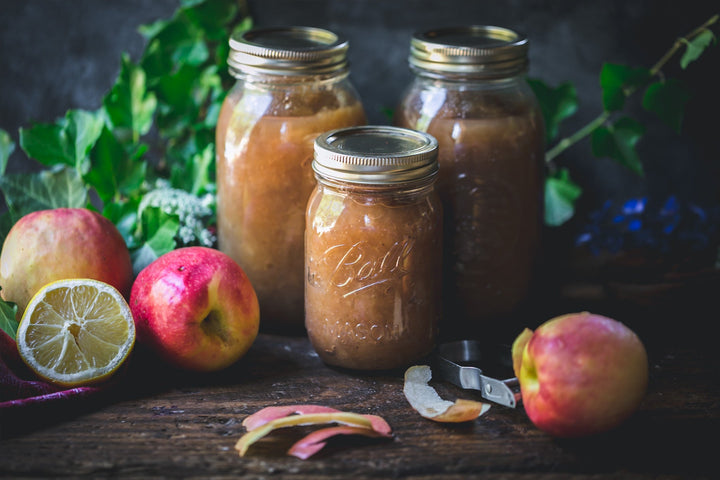 Homemade Applesauce
Recipe:
Homemade applesauce is always a winner and so it was an easy decision when we put these gorgeous red apples to good use and cooked them into a delicious, chunky purée. Every fall we go to the mountains for a few days. One of the fun traditions is that we go and pick apples. This past year we brought home way too many, and still had some stored in the refrigerator. Homemade Apple Sauce is what we decided to make to put them to good use, and what an amazing apple sauce it turned out to be.  Placed in a large cast iron pot, we simmered them on the cooking surface of the wood-fired pizza oven. Just a few ingredients and voilà, several jars of pure goodness are ready! 
Supplies:
Cast iron pot
Canning jars with lids
Large pot for canning
Ingredients:
37-40 mixed apples
2 cups (450 grams) sugar
1/4 tsp salt
3 tsp cinnamon
700 grams water
Juice of one lemon
Directions:
Apple Sauce:
Preheat the cast iron cook surface of the wood-fired pizza oven.
Peel, core and cut the apples into a large bowl.
Squeeze lemon juice over the cut apples to keep them from oxidizing.
Place the cast iron pot on the cooktop.  
Place the apples inside the pot. Immediately add the sugar, cinnamon, salt and water to the apples.  
Cover the apples with the cast iron lid and occasionally stir them to keep them from sticking.
Once the apples have come to a good simmer, allow them to cook for about 20 minutes.
After 20 minutes, mash the apples to your liking with a potato masher.  We like our apple sauce a little chunky. 
The apple sauce is ready to be canned.
Sterilize Canning Jars:
While the apples are cooking, sterilize the canning jars and the lids.  To do this, bring water to a boil in a large capacity pot.  
Place the jars in the boiling water for 15 minutes. 
Keep the jars hot until the apple sauce is finished cooking.
Place a dish towel on the counter, and transfer the mason jars upside down so they can drain. 
Place the canning funnel in the jar, and carefully pour the hot apple sauce inside the jar, leaving about an inch and half of space from the top.
Immediately place the lid on top of the jar and close tightly.
Once again place the jars very carefully into the water. Once the water comes to a boil, cook for 10 minutes. Let them stay in the water until cooled. Done!
Buon Appetito!
Subscribe to our YouTube channel for more videos! 
Follow us on Instagram and tag us with your culinary magic! We would love to see how you make this recipe!
@FontanaForniusa   #fontanaovens
@inside.our.kitchen   #insideourkitchen
---

40+ Years of Innovation | 100% Made in Italy
Built to Last | Superior Design & Construction