A Meal Fit for The Godfather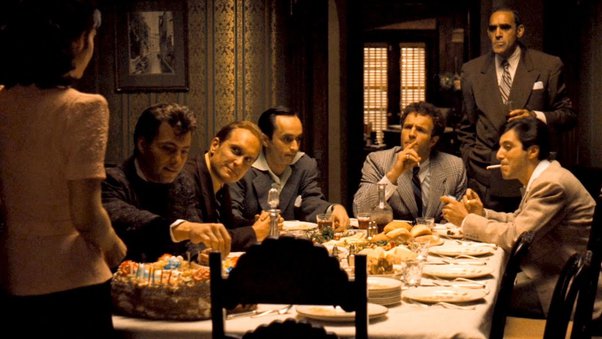 Today back in 1972 the world was introduced to the Corleone family in Francis Ford Coppola's The Godfather. And as every Italian knows, food is key and Coppola tapped into it's symbolism for the iconic flick. Epicurious did a detailed breakdown of it all from the opening wedding ceremony scene with a full out banquet to why oranges were "harbingers of death and tragedy" for Don Corleone who's shot while fruit shopping upon arriving in New York to his assassination in (you guessed it!) an orange grove. 
Naturally we wanted to see if we could put together a meal no one can refuse using our ovens for each serving. We suggest hosting an epic movie night with your own family. Just remember they should leave the guns but take the cannoli!
Appetizer: Crostini Salsiccia e Cresencza
Crostini are an absolutely staple when using our ovens. This version is topped with fresh sausage and soft Stracchino cheese. Watch your fingers!
Salad: Orange Salad with Toasted Almonds
Of course the orange must be included if not for the symbolism only. Plus, now that warmer weather is on the horizon its a crisp transitional salad combining rich winter ingredients with the tastes of spring.
Main Course: Lasagna with Asparagus
In honor of Connie's wedding spread that had trays of this baked classic, here's our version with pops of asparagus that add freshness to a creamy bechamel sauce. Or, "Try the veal. It's the best in the city." Michael Corleone denies Virgil "The Turk" Sollozzo's offer at the icon restaurant and we know how that went. Might we suggest our veal saltimbocca in lieu of the infamous marsala that sent men to the mattresses.
Side: Finnocchio Arrosto con Arance (Roasted Fennel & Oranges)
While we love fennel raw, roasting the bulbs releases so much flavor and paired with the brightness of oranges its an easy side to share with family.
Dessert: Pear & Ricotta Crostata
Okay so it's not cannoli but you have to end with a bang so to speak. This tart is always a crowd pleaser with it's unusual flavor combo and flawless presentation.
Buon Appetito!
Subscribe to our YouTube channel for more videos! 
Follow us on Instagram and tag us with your culinary magic! We would love to see how you make this recipe!
---

40+ Years of Innovation | 100% Made in Italy
Built to Last | Superior Design & Construction