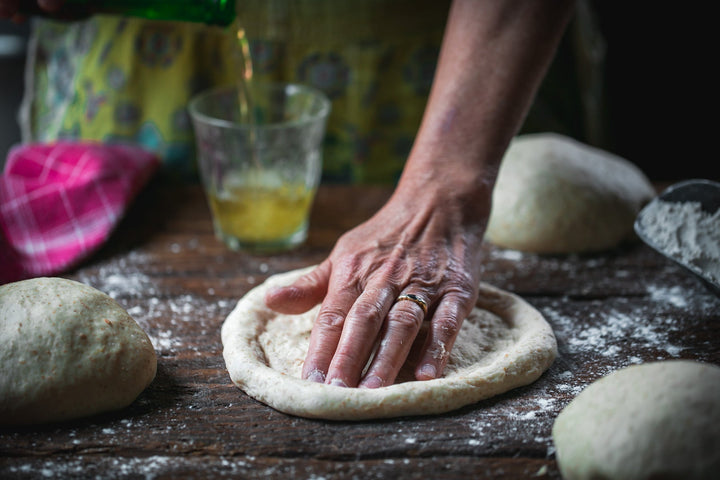 Beer Pizza Dough
Inspired by one of our favorite Pizzerias in Tuscany, we introduce a delicious pizza dough made with a splash of beer.  Simple, and straight forward, this dough is easily prepared in no time at all.  Pizza in Tuscany is known by its thinner, crispier crust and this lower hydrated dough is absolutely perfect to accomplish just this.
We have chosen to enrich this dough by adding a small amount of rich goodness derived from a flour that has not been stripped of its most nutritious parts, such as wheatgerm and bran.  Molino Denti has perfected the process of separating and extracting the wheatgerm and bran which are then dried at very low temperatures, thus eliminating excess humidity.  They are then introduced back into the flour creating delicious and rich undertones of flavor and pure health.  Let's get started!
Supplies:
Large mixing bowl
Danish dough whisk or rubber spatula
Damp cloth to cover the dough
Digital kitchen scale - Definitely a must in any kitchen and so much easier for the weighing of ingredients in a precise and predictable manner.
Ingredients:
900 grams 00 white flour - We used Anima Verace 00 flour by Molino Denti, 
100 grams Infibra Flour or whole wheat flour - Infibra Flour by Molino Denti is  whole wheat flour where bran and wheat germ have been slightly toasted to remove moisture. This improves not only flavor, but reintroduces some of the healthy and delicious qualities that refined flours have lost. 
470 grams water room temperature
100 grams beer - Preferably a light beer.  Heineken is what we had on hand. 
60 grams olive oil
20-25 grams sugar
7 grams instant dry yeast (about 1/2 Tablespoon)
18 grams salt 
Directions:
Place the two flours in a large bowl, mixing them together.
With your hand, make a well in the center of the flour.  
Add the water, beer, oil, sugar and yeast to the center of the well.  Reserve a splash of water for when the salt is introduced.
Using a Danish dough whisk or rubber spatula begin to incorporate the wet ingredients with the dry.  If using a machine, attach the dough hook to your mixer and begin working everything together. 
Once the ingredients have been brought together, knead and work the dough with the best tools in the world, your hands.  
When all the dry ingredients have been well incorporated, sprinkle the salt over the dough as well as the reserved splash of water.  Squeeze and pinch the dough with both hands, allowing the salt to be well incorporated into all of the dough, as shown in the video.  At first it will not have a smooth texture.  Don't worry!  It will quickly come together.  Cover the dough and allow it to rest for 10-15 minutes.
Once again knead and work the dough with both hands.  Do this directly in the bowl if it is large enough, or transfer the dough on a clean work surface, as shown in the video.  It will be evident that the texture and feel of the dough will have relaxed and will be exponentially smoother.
Cover it up once again with a damp cloth as this will keep it from forming a dry skin on the surface.  Make sure it has no scent of detergent as this would transfer into the dough. Allow the dough to rest and rise in a draft free area until doubled in size.  This should take no longer than 1 to 1.5 hours.  The bulk fermentation has just begun as the entire mass is allowed to ferment and rise before dividing and shaping it into pizza balls.  
Once doubled in size, place the dough onto a clean work surface.  With a bench knife divide the dough into 8 portions each weighing about 210 grams.
Shape each portion of dough into a uniform dough ball as shown in the video, and place into the dough trays leaving enough space between each dough ball.  Cover the top tray with either a damp cloth, plastic wrap or with the lid. 
Allow the dough balls to rise for about 1 hour if making pizza the same day.  *For even better results, much more intense flavor development and dough structure, place the dough trays in the refrigerator overnight. If you choose to refrigerate the dough, you must first allow it to return to ambient temperature before stretching for pizza. Depending on the temperature of your kitchen, this should take 45 minutes to 1 hour.  Enjoy!
Buon Appetito!
Subscribe to our YouTube channel for more videos! 
Follow us on Instagram and tag us with your culinary magic! We would love to see how you make this recipe!
@FontanaForniusa   #fontanaovens
---

40+ Years of Innovation | 100% Made in Italy
Built to Last | Superior Design & Construction