5 Appetizers to Help You Party Down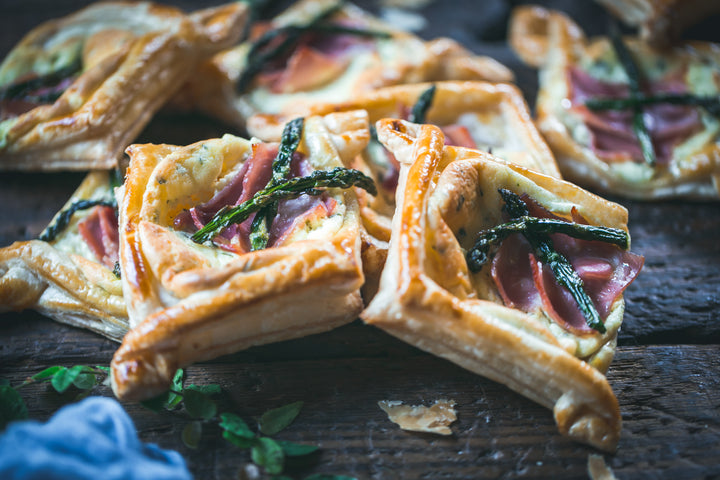 Welcome to the Era of the Reboot! Pop-culture is experiencing a massive nostalgic moment for shows, movies, and more from the past. But tv is leading the charge—think That 90's Show, Fuller House, and now even Magnum P.I. and Night Court! So it's not a surprise that cult-classic series Party Down is joining the bandwagon after being cancelled 13 years ago! The concept? A bunch of wannabes trying to break into the Hollywood scene but like many in real life, they have day (or night?) jobs working for a catering service. The dynamite comedic cast includes recent Golden Globe-winner and fan-favorite Jennifer Coolidge, Adam Scott, Megan Mullally, Jennifer Garner, Ken Marino, Jane Lynch, Lizzy Caplan, Kirsten Bell, James Marsden—like reboots, the list goes on. 
Passing around tray after tray of classic and more unusual (it is a comedy after all!) adaptations of appetizers, we delved into our archives to find our faves for your entertainment needs. Plus, with our ovens you can easily sling out high volumes of savory and sweet snacks if you're hosting a large group without missing out on any mingling yourself. 
1.) Savory Ham & Chive Puff Pastries
These never disappoint and disappear from app trays quickly! A flaky crust, savory cream cheese, and salty ham are folded into pastry squares for a fool-proof puff of flavor. Bonus: you can serve them to-order, piping hot from your oven with ease. No "soggy bottoms" here!
2.) Stuffed Dates Wrapped in Bacon
A timeless classic and trifecta of flavor! In a Fontana wood-fired oven you get a smokey, crisp caramelized bacon enveloping soft melted cheese inside gooey sweet dates. Plus, they're the perfect finger-food that's so easy to serve.
Naturally we have to include an antipasto option. Instead of the usual bread crostini, fried polenta gives an unusual twist of decadent flavor. Topped with fresh Cavolo Nero (known as "curly kale's tall, dark Italian cousin" and shavings of Parmigiano Reggiano, your guests will feel transported to Tuscany!
Who doesn't love these little spicy concoctions? The name says it all. Guests can pop them into their mouths without missing a beat. The pepper serves as the key vehicle for delivering lush cheeses and sausage. Sprinkle with breadcrumbs to add a nice crisp topping.
5.) Fig & Goat Cheese Crostini
A luxe mix of sweet and savory flavors, these are sure to please any palette no matter what they're craving. Sweet, creamy, salty, crunchy...it checks off all the boxes for a fabulous snack.
Buon Appetito!
Subscribe to our YouTube channel for more videos! We're also on Instagram, Facebook, Pintrest, and TikTok!
@FontanaForniusa   #fontanaovens
---

40+ Years of Innovation | 100% Made in Italy
Built to Last | Superior Design & Construction