What to Look for When Buying a Pizza Oven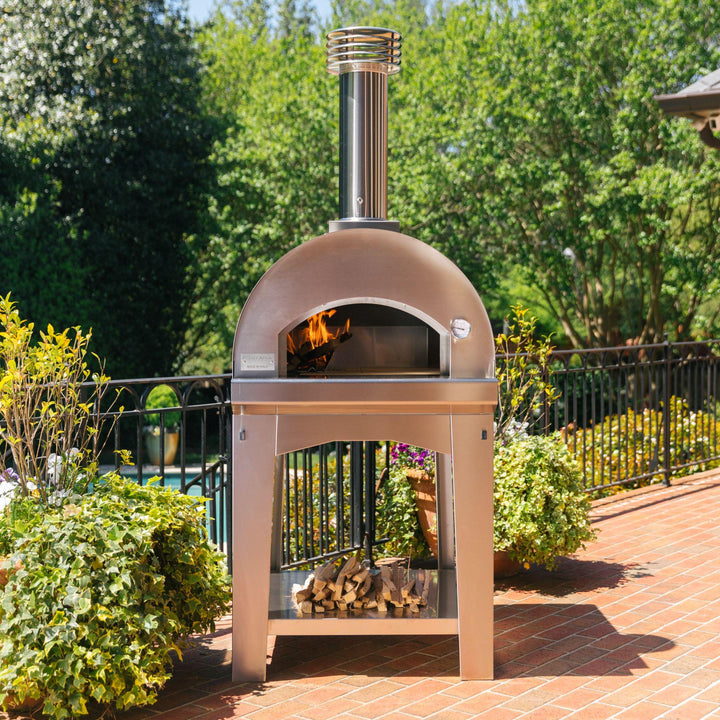 One of the hottest trends in residential outdoor cooking is the pizza oven. Part of its appeal is not just being able to make great-tasting pizza whenever you want but also the flexibility to make so many other dishes. The options are endless and we've got a huge collection to inspire you here. Let us help you decide what pizza oven to buy, and first you need to start by answering the following questions.
What Do You Want to Make in Your Pizza Oven?
Of course, pizza is the priority. But besides the traditional Neapolitan-style, did you know you can also make thin crust or deep-dish pan pizza too? You can also roast meats while giving them even more flavor. If you like baking, your oven is also perfect for bread, rolls, bagels, pretzels, cakes, muffins, tarts, and other baked goods…even flan! You can use your oven to make tons of side dishes as well, such as pastas, casseroles, french fries, and much more.
Where Will You Put Your Pizza Oven Outdoors?
Do you want a built-in pizza oven, freestanding, or tabletop design? Will the oven be under a covered patio or deck? The placement is essential because it will determine whether you need additional venting. You can put the oven in an open uncovered area. However, you will want a premium cover to protect it from the elements.
WHAT TYPE OF OVEN DO YOU WANT TO BUY: WOOD-FIRE OR GAS?
Gas and wood-fired pizza ovens are the two most popular types of outdoor ovens available for residential use.
Gas ovens are easier to light than wood. However, they can take just as long to preheat to get to the right temperature. Gas can also be easier to maintain cooking temperatures consistently. Yet, one major drawback is the cost of natural gas and propane which can fluctuate. So, you could end up spending a lot of money on fuel compared to the cost of hardwoods.
Wood-fired ovens will burn hotter once you reach optimal temperatures. As a result, Neapolitan-style pizzas cook in about 90 seconds to a few minutes. Not to mention, you can infuse wood-fired flavors into your pizza and other foods you make in your oven. Plus, wood-fired ovens are more eco-friendly because you can recycle the ashes. 
What
Else to Look for When Buying a Pizza Oven?
Superior Features: The features on an oven only lend to the cooking experience. If you want restaurant-quality meals, then you want these added features like our all solid weld dome construction not offered by other brands.
Design and Materials: The quality of the pizza oven is another important factor. You also want a thick layer of insulation to help retain heat. Our ovens' chambers are built with 441 stainless steel–the highest quality on the market–and topped with Corten Steel Fire Shield which protects it from oxidizing.
Authenticity: If you truly want an authentic Italian pizza oven, then you want one that is actually built in Italy. Our ovens are 100% handcrafted in the heart of the Marche region, in the industrious Cesano Valley

with innovative designs. We also offer authentic Saputo stones which help you get perfectly cooked dishes without burning the bottom due to the uniqure mineral content of the alluvial clay used. There's a lot of impostors on the market so make sure you authenticate any purchase.
Cooking Performance: You need precise temperature control and maximum heat performance, whether you are making pizzas or a roast dinner with all the fixings. We have a stainless steel damper to ensure that you have the ultimate level of temperature accuracy while cooking.
Quick Cook Time: With our pizza ovens, you can make so many dishes in a few minutes once your oven is preheated. No one wants to get "h-angry" while waiting for a meal to be ready after a long day at work.
Output: The output has to do with how much you intend to cook. For example, if you are hosting a birthday pizza party or a family gathering, you will need to churn out a large amount of food. So, you need an oven you can count on to handle that kind of volume.
Ease of Use: Learning how to use your pizza oven should not be challenging. Our unique designs and detailed instructions make it easy to learn how to use your new pizza oven. We also offer step-by-step videos to walk you through all of the processes from set-up to cleaning.
Longevity/Durability: Your pizza oven should stand the test of time. Our pizza ovens use powder-coated, corrosion-resistant stainless steel and solid weld construction techniques. Fontana Forni USA ovens are investment pieces that will enhance your cooking lifestyle for years to come.
Why Choose Fontana Forni USA?
When you want the best pizza oven on the market, then you want a truly authentic 100% Italian-made Fontana Forni oven with Saputo stones. We offer a variety of oven models to fit your tastes for pizzeria and restaurant-quality dishes at home. We also offer a variety of accessories to complement your new oven.
For more information and further assistance in selecting the best pizza oven for your home, please feel free to explore our website or contact us at 877-842-9822 today.
---

40+ Years of Innovation | 100% Made in Italy
Built to Last | Superior Design & Construction