Tips to Convert an Outdoor Space into an Outdoor Kitchen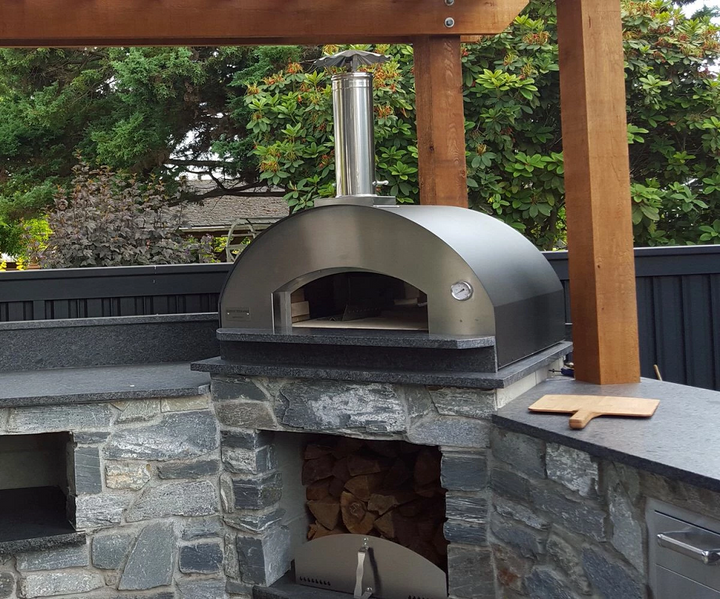 One of the biggest trends in home exterior design is taking an outdoor space and converting it into an outdoor kitchen. Having an outdoor kitchen allows you to enjoy the wonderful flavors of food when you cook on grills or with wood-fired pizza ovens.
What Outdoor Appliances Do You Want?
When it comes to designing your new outdoor kitchen, the first thing you need to decide is what outdoor appliances you want. Some of the more common ones include:
Cooktops
Outdoor Pizza Ovens
Smokers
Grills
Refrigerators
Freezers
Certain appliances can serve multiple purposes so you can consolidate cooking tasks into a single appliance. For instance, wood-fired pizza ovens not only bake pizzas but also can be used to roast and grill a variety of foods with the right accessories.
What Cabinets and Countertops Do You Want?
Marble, granite, quartz, and other stone countertops do well in outdoor environments. You want to choose cabinets that are designed for outdoor use and seal so water cannot get inside when it rains. Most people also want an outdoor sink as part of their outdoor kitchen design.
How Much Space Do You Have?
A key design element is deciding how much space you need and how much you have available. For instance, if you have a deck on the back of your home, will this be sufficient or do you need to add onto the deck to get the space you need?
Do You Want to Cover and Enclose the Space?
Another consideration is whether you want to cover and enclose the outdoor kitchen area. Covers are great when you want to cook outside on rainy days. Enclosures are good to have if you want to enjoy your outdoor kitchen in the cooler fall and colder winter months. If you plan on adding outdoor electronics like an HD TV and surround system to your new outdoor kitchen, then a cover and enclosure are essential.
What Sort of Seating Do You Want?
Do you want lounge chairs and a sofa, an outdoor dining room table, a bar with bar stools, or a combination of different types of seating? Remember to include seating in your outdoor kitchen design since it will also take up space.
Is There a Specific Theme or Certain Colors You Want?
Themes could range from a Hawaiian/Caribbean Island setting to a gastropub and grill and everything in between. If opting for a theme, you will want to choose colors that fit in.
Otherwise, if you just want specific colors, you may want to stay away from whites and stick with grays, stone/marble, blues, reds, and other colors that will not show dust and dirt as easily.
Putting It All Together
Now that you have thought about everything you want in your outdoor kitchen, you will want to sit down and make a sketch of your plan. A good starting point is to select the location where you want cooking appliances like outdoor pizza ovens.
For example, if you like to visit with family and friends while cooking, place the pizza oven or grill so that it is perpendicular to the outdoor dining/seating area. If you plan on having a cooktop, it should go next to the pizza oven or grill.
From there, you will need to decide the placement of the sink, refrigerator, and other appliances. The empty spaces in between are where the cabinets and countertop will go. Remember to also include a countertop section next to the pizza oven or grill.
For help selecting the best wood-fired pizza ovens and to find out all the great things you can cook in them, please feel free to browse our selections online or call Fontana Forni 877-842-9822 today!
---

40+ Years of Innovation | 100% Made in Italy
Built to Last | Superior Design & Construction