Tips for Taking Your Portable Oven On the Go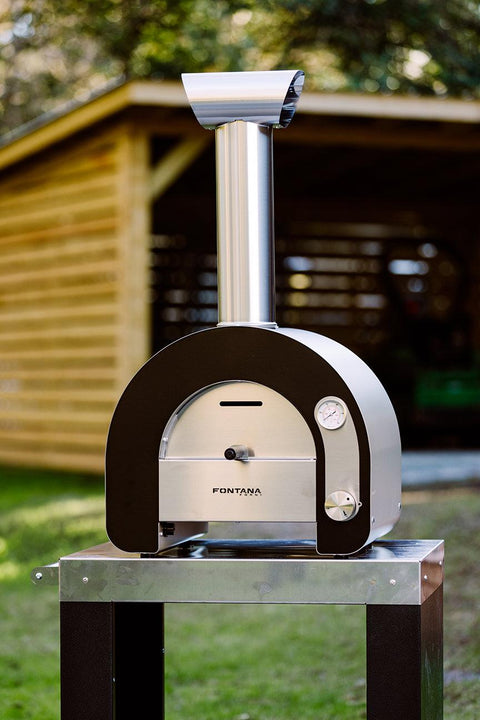 Are you ready to take your cooking skills on the road? A portable oven is a perfect tool to make delicious homemade pizzas and other oven-cooked meals while traveling or camping. However, transporting and using a portable oven requires some planning and preparation to ensure a successful experience. Here are some tips for how to cook while camping and help you enjoy your portable pizza oven on the go.
Choosing the Right Portable Oven
Look for a portable pizza oven that is lightweight, compact, and easy to transport. It should also be durable and able to withstand the elements.
At Fontana Forni, we have the perfect two options for your outdoor camping kitchen:
Maestro 40 – The smallest of the family, but with the largest cooking area on the market in its compact category, it comes equipped with a flue and rain hat, a steel door that features an anti-scald handle, and an analog thermometer.

Maestro 60 – Even though it is the smallest model in Fontana Forni's range, it performs just as well as our other designs, making it the best portable camping oven. It reaches maximum temperatures due to the perfect roundness of the vault, which promotes air circulation, while the specialized gas burner ensures that heat is distributed evenly in a shorter time.
Essential Accessories
When it comes to outdoor pizza ovens, there are a few essential accessories that you should have on hand to make the most of your outdoor cooking experience.
These include:
Pizza peel

– A long-handled tool is used to slide the pizza into and out of the oven.

Cooking utensils

– Make sure to include all the necessary accessories, such as oven mitts, a lighter or matches, a pizza wheel, a scraper, an ash shovel, and an oven brush.

Protective cover

– Our protective covers keep your oven safe from scratches and water damage.

Fuel

– Our kiln-dried firewood guarantees authentic flavor, easy ignition, and the perfect crispy pizza base. If you choose a gas oven, ensure your cylinder has sufficient supply.
Prepping for Your Trip
Plan your menu

– Before you hit the road, plan out your menu and make sure you have all the ingredients you need to cook up a storm.

Pack your oven safely

– Ensure your oven is clean and fitted with its protective cover before packing it for the trip.

Plan your cooking location

– Having a stable, clean surface on which to prepare your pizzas and stand your pizza oven is crucial to your safety and comfort while cooking.

Stick to the essentials

– As tempting as it may be to pack every last utensil and tool, having too much going on can cause frustration, clutter, and unnecessary accidents. Instead, only pack the tools you know you'll use to keep the cooking process as simple and efficient as possible.
Getting Ready to Use Your Oven
Once you're ready to use your oven, remember to pre-heat it so it reaches a stable, even temperature perfect for cooking your on-the-go meals.
Here are some of the steps to get your oven ready for use and keep it clean and in great condition after every meal:
Preheat the oven:

If you are using a wood-fired oven, ensure enough time for the oven to reach the optimal cooking temperature.

Follow the manufacturer's instructions

for cooking time and temperature. For the best results, cook one pizza at a time.

Clean the oven after each use.

Store the oven properly:

When not in use, store the oven in a cool, dry place to prevent damage from moisture and temperature fluctuations.
Fontana Forni's State-of-the-Art Portable Pizza Ovens
Taking a pizza oven along on a road trip, camping holiday, or rural getaway can bring a unique element of fun to any journey. To ensure you have everything you need to make the best possible use of your portable pizza oven, Fontana Forni created two compact, convenient portable pizza ovens for adventurers and road trippers.
To learn more about our portable ovens and how they can bring a special twist to your next vacation, visit our website today.
---

40+ Years of Innovation | 100% Made in Italy
Built to Last | Superior Design & Construction