The Benefits of Using Stainless Steel for Your Outdoor Kitchen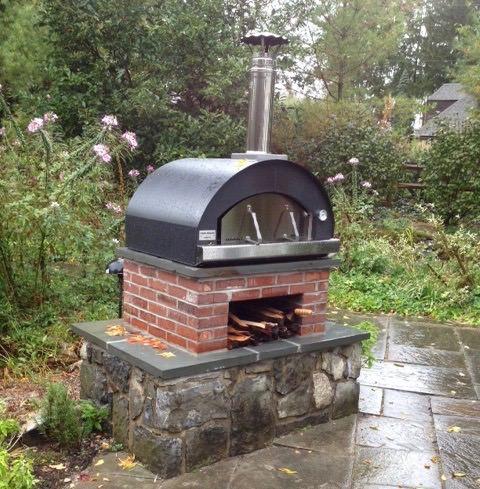 Cooking outdoors has become a favorite pastime for many Americans and, with grilling season finally here, you might be thinking about making some upgrades to your outdoor kitchen. Stainless steel remains a top choice for those looking to transform outdoor kitchens of any style and size.
Portability, Cost, and Energy-Efficiency
Stainless steel is definitely a popular material for indoor kitchens, but what are the benefits of using it outdoors? A portable stainless steel outdoor oven can be easily moved where you need it. The cost of these ovens is also significantly less than traditional ceramic ovens. If you're looking for energy-efficiency, a stainless steel outdoor pizza oven allows for maximum heat retention and precise temperature control, which both translate to unparalleled efficiency.
A Breeze to Clean and Maintain
Even though it's outdoors, your kitchen may have surfaces that absorb liquids and odors from food, not to mention any dirt that may gather on stormy or windy days. This is yet another reason to swap out that old patio pizza oven for one made of stainless steel. Stainless steel surfaces don't absorb dirt, food, or odors. Also, it's super-easy to clean and disinfect, making it a completely worry-free material for outdoor kitchens.
Maintenance is just as easy; all you need is a bit of mild soap, warm water, and a few minutes. Any smudges or other marks can be removed easily with stainless-steel-specific cleaners and polishes.
Good for the Environment
Another benefit of stainless steel is that it's eco-friendly. Its durability means that you won't have to shop for new appliances for several years, and its physical properties make it incredibly easy to recycle. Add to this the fact that you can use natural cleaners like vinegar and hot water, and you've got a trifecta that Mother Nature can't help but appreciate.
Its Properties Make It Ideal for Outdoors
Certain types of stainless steel offer more benefits in terms of heat resistance than others. For example, 441 stainless steel offers high strength when exposed to high temperatures, and it offers a high degree of brightness. This stainless steel also polishes very well.
304 stainless steel is inherently anti-corrosive and won't oxidize, which is why it's so popular in the food industry and outdoor kitchens with a pizza oven.
Fits with Any Style
Stainless steel may be considered to be a modern material, but its versatility will surprise you. This material can add a decidedly modern touch to an older kitchen, but it can also bring old-world charm to any indoor or outdoor kitchen space. For example, a stone cooking area is full of rustic charm. What better way to really make it shine than with a stainless steel outdoor pizza oven?
If you want to enjoy fantastic flavors, fast cooking times, and nutritious food on your patio this year, Fontana Forni has you covered. Our pizza ovens combine 304 and 441 stainless steel with 100% Italian construction. Visit us online or call 1-877-842-9822.
---

40+ Years of Innovation | 100% Made in Italy
Built to Last | Superior Design & Construction