17 Up-and-Coming Pizza Trends to Incorporate into Your Restaurant's Menu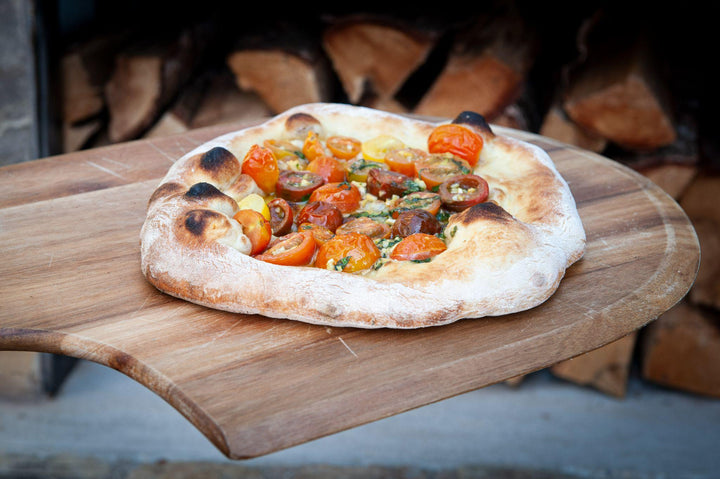 Updating your pizza restaurant's menu to reflect up-and-coming pizza trends is a great way to boost your options and provide your customers with some new ways to enjoy pizza. So, if you are looking to go beyond traditional toppings and your typical cheese pizza, consider the following menu ideas.
1.
Meat-Free Options
The popularity of plant-based imitation meat alternatives has grown. As a result, more people are willing to choose meat-free options at least once a week. So, offering plant-based pepperoni, sausage, chicken, bacon, and beef toppings is a great idea.
2.
Flavored Crusts
Providing the option to flavor crusts with parmesan and butter, garlic and herb, toasted cheese, or seasonings is not new. However, with a wide range of other trends, this little added touch can be the perfect accompaniment to any pizza.
Yet, one new trend is taking flavored crusts to the next level. Depending on the wood you use in your pizza oven, you can infuse different flavors into pizza dough like apple, cherry, pecan, peach, etc.
3.
Crust Alternatives
Another trend is offering different types of crust options, such as cauliflower crust, pretzel crust, smokehouse pizza crust, etc. 
4.
Street-Food Inspired Pizzas
You can take popular street foods and transform them into pizzas. For example, you could use red chili sauce, fajita grilled steak or chicken, peppers, onions, tomatoes, queso, and cheddar cheese to make a fajita-inspired pizza.  
5.
Original Pizza Combinations
Another trend is to convert non-traditional pizza foods into tasty pizza pies. For example, bbq pizzas are very trendy. You could use a smoked pizza crust, bbq sauce, beef brisket, smoked bacon, and pulled pork. Top it with a blend of mozzarella, muenster, and cheddar cheeses. 
For veggie lovers, try an avocado crema sauce topped with tomatoes, arugula, kale, and other fresh veggies. Finish it off with a blend of cheddar, swiss, and mozzarella cheeses—dairy or plant-based versions.
6.
Tomato-Sauce-Less Pizzas
Many people are ditching traditional tomato sauce for other types of sauces to go on their pizza, such as white sauce, Thai peanut, and Korean/Asian sauces. In addition, international-inspired pizzas like Korean-style pizza, continue to grow in popularity, so you will want to include them on your pizzeria menu.
7.
Pizza Cones
It can be difficult for people to enjoy a pizza when they order it for takeout and want to eat it in the car or on the go. A great solution to this problem is offering pizza cones. The pizza crust is made into a cone and then stuffed with all of your customers' favorite toppings, cheese, and sauce.
8.
Breakfast and Brunch Pizzas
Pizza isn't just for lunch and dinner anymore. Breakfast and brunch pizzas are one of the pizza trends for 2022 and 2023 you will not want to miss. You don't have to adjust your operating hours either. You can feature breakfast and brunch pizzas all day long if you wish.
Traditional breakfast pizzas are basically like an omelet or quiche but are made on a pizza crust. Brunch pizzas allow you more flexibility to experiment with unique toppings like lox and cream cheese or spinach and ricotta.
9.
Mediterranean Pizzas
Another popular trend is offering Mediterranean-inspired pizzas. Instead of using pita bread, you make the pita dough into a pizza crust and top it with lamb, hummus, tzatziki sauce, tomatoes, feta cheese, cucumbers, and onions. You can also come up with other combinations using cardamom, pomegranates, and hummus.
10.
Gen-Z Pizzas
Many Gen-Zers enjoy fresh, wholesome, locally sourced, and unique foods. While they still enjoy traditional pizza pies, they are also willing to try new creations featuring unique flavor blends like savory and sweet combinations, Southeast Asian-inspired pizzas, Indian-inspired pizzas, and harissa-inspired pizzas. 
11.
Gluten-Free Crusts
Offering gluten-free pizzas is an excellent idea for your customers with gluten allergies. You can use gluten-free flour to make the pizza crust. You could also use this same dough to make bread sticks, cheese bread, and garlic knots.
12.
Dairy-Free Options
Some people are lactose intolerant and cannot eat pizzas topped with cheese. You could offer dairy-free cheese options or come up with pizzas that do not have any cheese. These same pizzas can also be featured as vegan pizza options for your vegan customers.
13. Old World Pizzas
You do not want to overlook classic pizzas many people may not have had the opportunity to try, such as Detroit-style, Chicago-style, New York-style, Neapolitan, or Margherita. While offering a range of modern and inspiring pizzas, these classic pizzas are an essential part of pizza's legacy.
14.
Locally Inspired Pizzas
Come up with new pizzas by using locally sourced and seasonal ingredients you can get from your local farmer's market. You could also create a unique pizza that reflects signature ingredients featuring your city.
15.
At-Home Pizzeria Experiences
One way to keep your pizzeria trendy is to offer pizza-making kits your customers can make at home in their pizza oven. You should include pre-made dough balls, sauce, toppings, and cheese in the kits. You could also allow customers to customize their kits.
16.
Stuffed Crust
Stuffed crust pizzas are not new, but customer demand for them continues to grow. Expand your offerings by stuffing pizza crusts with cheese, pepperoni, or other toppings.
17.
Dipping Sauces
Offering a wide range of dipping sauces for breadsticks and pizza crusts is very popular with customers. However, they want more than pizza sauce and garlic butter dipping sauces. Some popular dipping sauces are cheese, ranch, bbq, jalapeno cheese, spiced honey, sweet and sour, and spicy.
Offer Authentic Pizzeria Pizzas
With all these different pizza trends, one thing you need to do is to continue offering authentic pizzeria pizzas made in a commercial wood-fired pizza oven from Fontana Fornia. Our commercial pizza ovens are handcrafted in Italy by experienced craftsmen. They pride themselves on delivering the highest-quality and -performing pizza ovens.
Furthermore, Fontana Forni pizza ovens use a continuous solid-weld in the dome of each of our ovens. This helps prevent warping and breaking from continued use and high temperatures. Many of the wood-fired pizza ovens we built in the late 1970s are still in use today. 
Other benefits you gain with one of our commercial pizza ovens include:
Maximum Insulation

Precise Temperature Control

Heavy-Duty Construct

Innovative Designs

Handcrafted Traditions of Excellence

Unparalleled Performance

Optional Upgrades and Customizations
For further information about our commercial wood-fired pizza ovens or assistance in choosing one for your pizzeria, please feel free to contact us at 877-842-9822 today.
---

40+ Years of Innovation | 100% Made in Italy
Built to Last | Superior Design & Construction