Outdoor Kitchen Ideas for Small Spaces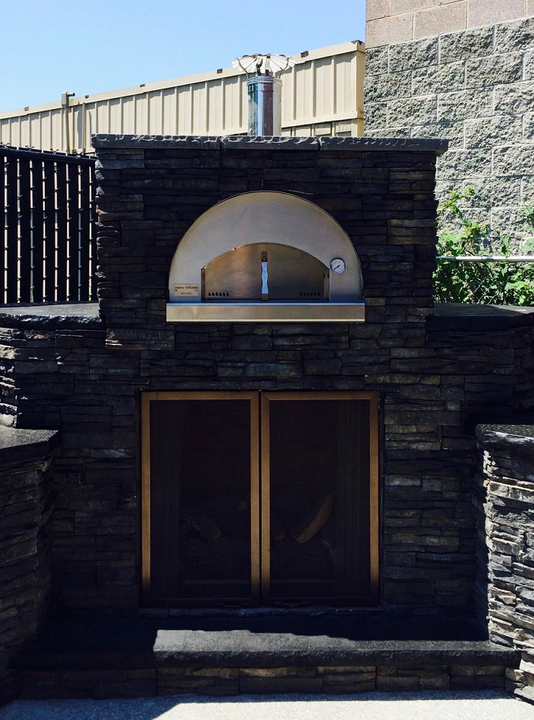 The weather's warming up, and soon it'll be time to enjoy the outdoors. If you're planning on spending more breakfasts, lunches, and dinners on the deck but don't think you've got the space, these great outdoor kitchen designs for small spaces will definitely make you think again.
Add Instant Elegance
Just because your outdoor space is small, it doesn't mean it can't be magical. Give your patio kitchen a roof, and then install lights underneath. Small LED fairy lights can add an ethereal glow. If you need task lighting for cooking at night, larger bulbs will be ideal.
Keep It Compact
Believe it or not, a small outdoor kitchen can actually have a lot of space. For this idea, it's all about thinking out of the box. Instead of a traditional picnic table, consider buying or building one that's either small enough to hide away or that can fold down like a TV tray. Folding chairs can also be a great way to save space.
Outdoor kitchen appliances can also be compact. If your family is into wood-fired culinary creations, then a portable wood fired pizza oven is a great way to save space.
Look Way Up
When space is tight, the best way to maximize it is to go vertical. Instead of spreading kitchen storage out, stack it high with built-in shelves. Barbecue tools, food wrapping, and anything else you use while cooking can be stored in a rolling shelf with pull-out wire baskets—and, bonus: wire shelves will look almost invisible, adding to the illusion of a larger kitchen.
Rainy Day? No Problem
No one likes to cook in the rain and—unless your compact outdoor kitchen is built to resist it— that's just what you might have to do. Although it might seem like an unusual material, corrugated tin can be a great material for a small outdoor kitchen design. It'll keep the rain off, and everything will be neat and tidy, which is essential for small spaces.
Frame your outdoor kitchen in wood, and then fill the spaces with tin. Ensure the roof has a steep pitch so that rain can roll right off, and make it large enough to cover a small table and chairs, and you can enjoy those rainy days a lot more.
Make Use of Corners
The corners of your outdoor kitchen can be ideal spots for additional storage. If you have a corner that isn't being used yet, a pizza oven can be the ideal appliance. Corners are also great spots for that high shelving we mentioned earlier, and they can also be perfect to add some refrigerated beer drawers.
As you can see, these small outdoor kitchen ideas will make your kitchen look anything but small! Want to make your outdoor kitchen a lot more delicious? Add an outdoor pizza oven from Fontana Forni USA. We've got a whole line of compact wood ovens for every small space. Discover the difference of 100% Italian construction; find your perfect oven by calling 877-842-9822.
---

40+ Years of Innovation | 100% Made in Italy
Built to Last | Superior Design & Construction